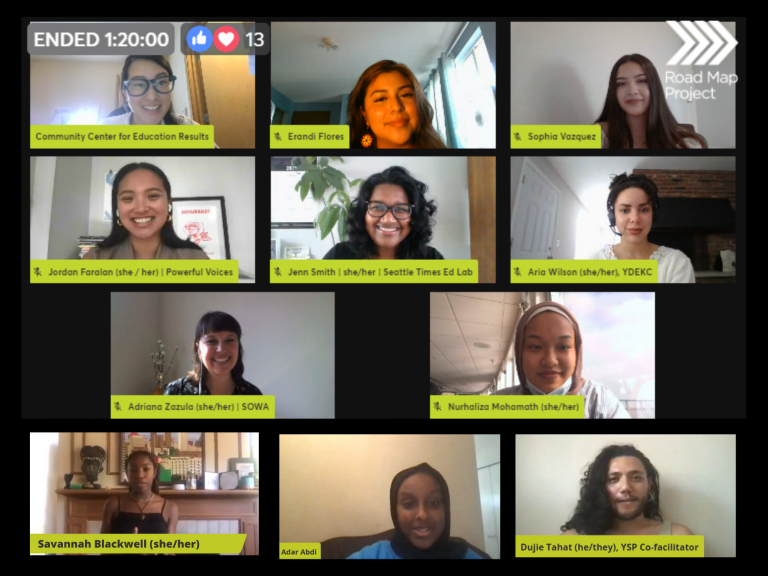 Community stories as calls to action
The Road Map Project Youth Storytellers project aims to train and collaborate with South King County and South Seattle youth as expert consultants for communications projects, to engage them in anti-racist education work, and to resource them to elevate their own stories and their community stories.
To change our inequitable education system, we need to focus on our students' experiences in their schools. Young people are experts in their own experiences, and students of color in the Road Map Project are most directly impacted by education inequity in our region. To center community and lead with race, we need to reimagine who "experts" are, resource young people of color to own their stories, and follow their visions of transformation.
Learn more about Road Map Project stories:
BIPOC Youth Wellness—resources and stories about mental health and wellness from BIPOC youth, by Savannah Blackwell
Tani Waa Uun Bilowgi/This Is Just The Beginning—bringing awareness to inequalities students with disabilities face in schools where the population is majority people of color/low-income, by Adar Abdi
What's for Lunch?—telling the stories of South King County youth, educators, and community advocates working for food justice, by Nurhaliza Mohamath
The Perks of Being Bilingual—storytelling on how to support dual-language classrooms, by Sophia Vazquez
Where Roses Grow—a podcast about youth activism on Muckleshoot land, what is currently known as Auburn, by Erandi Flores-Bucio
Meet the Summer 2021 Storytellers
Racial Equity Essentials
The Road Map Project System-Wide Racial Equity Essentials are foundational, cradle-through-college system-level efforts that, if strengthened, will help our region advance racial equity and support student success. The Youth Storytellers Project initiative is working in service of the following essentials:
Equitable Funding
Advocate for local and regional funding equity, including public and private sources
Increase Culturally Relevant School Climate And Supports
Build capacity of culturally specific community-based organizations
Diversify educator workforce
Improve cultural competence of workforce
Support bilingual pride and language access
Increase Access And Dismantle Barriers To Opportunity
Increase access to quality out-of-school-time