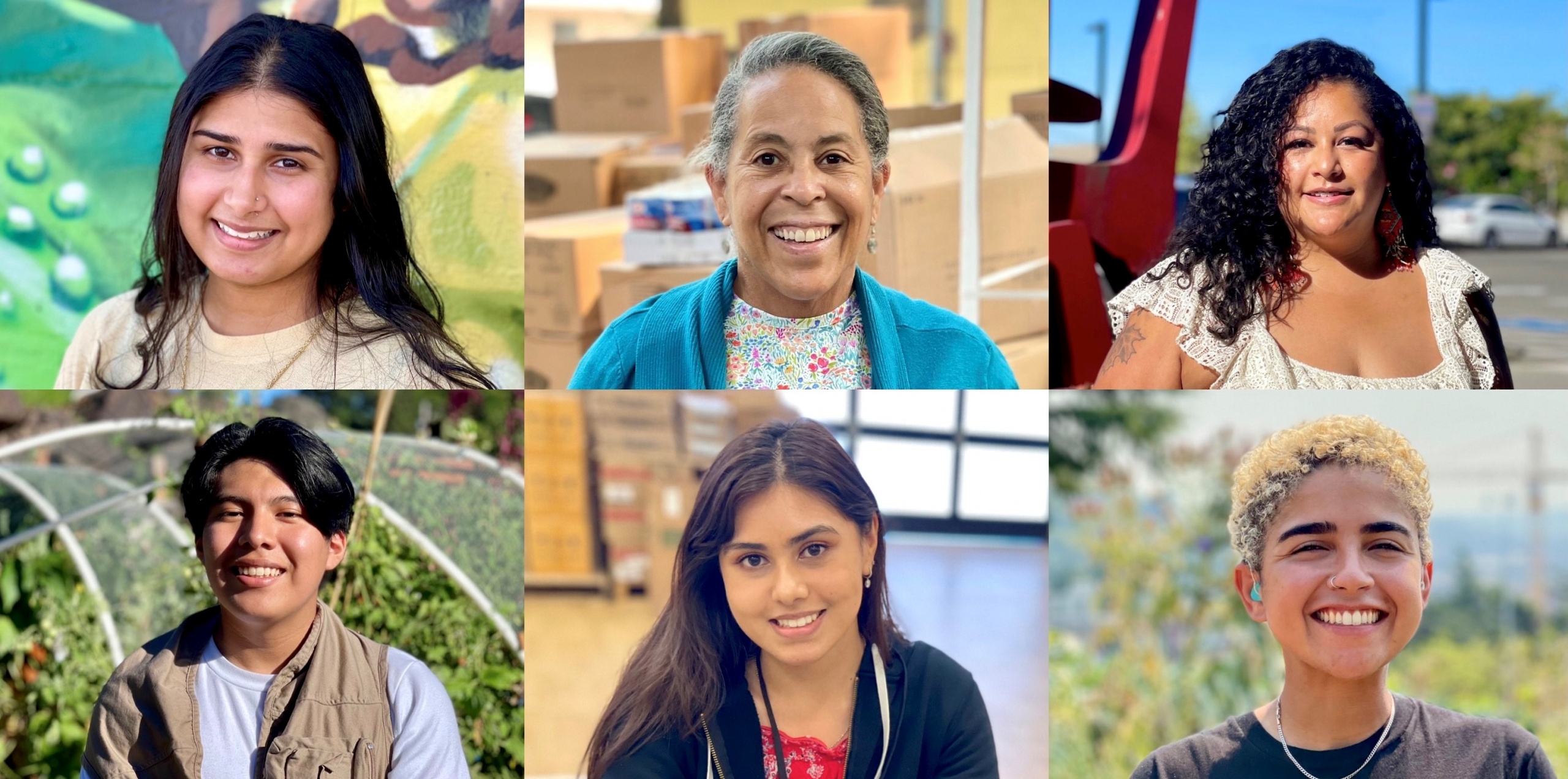 From top to bottom, left to right: Heena Vahora with FEEST Seattle, Gloria Hatcher-Mays with Rainier Valley Food Bank, Roxana Pardo-Garcia with Alimentando Al Pueblo, Fredy Castillo with World Relief Seattle, Rajee Pandey with Club Bamboo of ACRS, Hannah Wilson with the Black Farmers Collective
By Nurhaliza Mohamath
This article is part of the Road Map Youth Storytellers Project. Learn more here. 
---
During her first two years of high school, Roxana Pardo Garcia said she was overcome with a sense of anger about the inequities she saw around her. That led to her feeling disengaged from her studies.
"From a really young age, I just have always felt like there was something wrong," said Pardo Garcia, a founding member of Alimentando al Pueblo, a culturally relevant food drive serving Highline's Latinx population. "I didn't have the language. But now that I have the language, I just felt that there was a lot of injustice and unfairness."
Her anger has grown into a lifelong career centered on healing through community. Rooted in Burien with a background in ethnic studies, and on top of her work with Alimentando al Pueblo — Pardo Garcia is an entrepreneur, public speaker, consultant, and youth advocate. Lately, Pardo Garcia's work has been focused on helping people navigate food insecurity caused by COVID-19. While her mission of healing the hood stood solid, like many others Pardo Garcia had to take a different approach once the pandemic hit.
The rise in food insecurity in King County during the pandemic has forced many Black, Indigenous, and People of Color-serving organizations to reimagine what the future of our food systems should look like. For Pardo Garcia, that means finding a more sustainable solution to food insecurity. Food drives, she said, can only do so much for people.
"Those are great, but they're temporary," she said. "And the reality is that we want liberation." Pardo Garcia said that food justice is key to addressing systemic inequity — from how you grow it, to how you eat it, to how you create space to eat it. Liberation, Pardo Garcia added, starts with "young people educating themselves, learning, challenging themselves to look outside of their schools for education."
Gloria Hatcher-Mays is the executive director of the Rainier Valley Food Bank, which operates multiple youth education programs. She also underscored the connection between education and food access for youth. Hatcher-Mays suggested, "Instead of punishing these children, give them a healthy meal and see if that makes a difference in terms of how they're able to sit in a classroom and interact with their studies."
FEEST Seattle, a youth-of-color-led organization serving South Seattle and South King County, addresses exactly this issue. FEEST aims to improve health in schools by working towards tangible change in our food systems, directly through the voice of the youth. FEEST's work, in part, is to address the factors at play as they pertain to food injustice, in particular how students interact with the juvenile justice system.
In the context of socio-economic segregation in this country, low-income students of color are often concentrated in underfunded school districts. The stigma of free/reduced lunch and overall lack of access to healthy food programs can manifest in a student's behavior inside and outside of school, which can result in punitive consequences involving school staff and police. Marginalized students are more likely to have run-ins with the juvenile justice system, effectively putting them in a school-to-prison pipeline.
Recently, FEEST has joined efforts to end Seattle Public Schools' partnerships with the Seattle Police Department which according to the SPD website, "focus on gang resistance and violence prevention education and training, truancy and suspension reduction." According to student advocates, the brutalities of police in and outside of school are indistinguishable, as they continue to disproportionately surveil and police communities of color; their young people unexempt to the injustice.
FEEST has also been organizing in support of the National School Lunch Program's Community Eligibility Provision (CEP), which makes breakfast and lunch free for all students if 40 percent or more qualify for Supplemental Nutrition Assistance Program (SNAP) and Temporary Assistance for Needy Families (TANF).
When it comes to advocating for better food access in the public school system, FEEST said they look to the historical activism of the Black Panther Party. During the 1960s, the Black Panther Party's Free Breakfast Program was one of many efforts that laid the foundation for American food policy today. The Party's act of feeding hungry children before they went to school put pressure on the federal government to standardize school food programs in the 1970s.
The work of grassroots organizations can serve as a blueprint for changes to public policy. Today in South King County, World Relief Seattle is working to address the issue of food access from an environmental standpoint.
Fredy Castillo is an equity & sustainability intern for the organization. He manages an environmental science curriculum for K-8 immigrant and refugee youth using the Hillside Church Paradise Parking Plots Community Garden. Castillo explains, "The reason we do this is because climate change is disproportionately hitting immigrant communities the hardest and they don't have the right education and resources to actually know about what's affecting them."
The Hillside Church in Kent serves immigrants and refugees from over 20 countries: Mexico, Myanmar, and Germany, to name a few. The garden itself grows regional produce to reflect the diversity of the community.
Castillo emphasized access being the passion of his work, from the metro bus stop nearby to the 44 affordable land plots available for purchase, 6 handicap accessible raised beds, and the creation of educational material for students who are English language learners.
For communities to learn about the environment and have a place to grow ancestral foods as they can at Paradise Parking Plots, they need to have land. Hannah Wilson is a manager at Yes Farm, a part of the Black Farmers Collective: a group of three Black-led farming efforts in the Seattle area. A major part of Wilson's work is determining how to achieve food justice on colonized land, advocate for reparations to Black farmers and Indigenous people, all while gentrification continues to displace the communities of South King County.
While Wilson works to answer those questions, they said an outpour of support for the collective prompted by the pandemic and last year's Black Lives Matter protests, has helped further that mission. The Yes Farm community garden in the Central District started as a field of grass and overgrown blackberry bushes and has since flourished into a greenhouse, a multi-use shipping container, a bee farm, an array of raised beds filled with African medicinal plants, and fresh produce overlooking Interstate-5.
"Part of why this farm was so resilient during COVID-19 was that we plugged into everything that was happening and what was possible," Wilson said. They added that the pandemic illuminated the lack of food access in Skyway, a predominantly Black neighborhood and an unincorporated area governed by King County.
"That all correlates to just one grocery store for the whole neighborhood and not really any community gardens in that area," they said. "But there is a lot of land in Skyway."
As real estate development continues on the outskirts of South Seattle, while trees and shrubs are cleared for cranes and cement to occupy, there are folks like Wilson who are looking to plant new seeds of change. Where King County and community members work to make housing more affordable in Skyway to fight displacement, Wilson hopes the possibility to expand the Black Farmers Collective into the area could equitably address food access.
Wilson emphasized the importance of language when addressing this issue. Food security, food access, and food justice all look different. To achieve food justice, they said, we should be striving for food sovereignty: having access to land in order to steward it and grow food, access to clean air and water, the choice to buy and receive healthy foods, the knowledge of how to cook food, and the chance to share that knowledge and food with the community for generations to come.
Hatcher-Mays, with the Rainier Valley Food Bank, said that residents of South King County can look to the region's history of farming for answers about how to move forward with achieving sovereignty over our food systems. She said that her grandparents were farmers in the Rainier Valley who had land and a garden to tend to every year. She explained how this part of the city is home to all kinds of immigrants who would plant and grow things from their home countries.
"There's a long history of growing things, of farming being tied to food, food product, and nourishment; That's all rooted right here," Hatcher-Mays said. On top of acknowledging the historical roots of food systems in South Seattle, Hatcher-Mays said her role is to build out the future of equitable food visions for the community.
The Rainier Valley Food Bank has plans to expand operations with the new building they recently acquired: a community garden used as an educational resource,  a commercial kitchen for community gatherings, food demonstrations, and the incubation of food business ideas in partnership with Rainier Beach Action Coalition, which has goals of a Food Innovation District. The food bank is also looking to modernize grocery models — for instance, with online ordering, pick-up, and delivery, but also with a large-scale in-store model. This would allow patrons to cruise the aisles with a shopping cart, take what they need, and go; just like Amazon Go Grocery, but free for the community.
View this post on Instagram
---
Nurhaliza Mohamath is a Sociology, Economics and Business Administration student at Mills College and is on the road to completing her MBA. She is pursuing her studies in hopes of promoting socioeconomic development in her respective South Seattle and Oakland communities with a passion for uplifting BIPOC-owned local businesses and BIPOC youth.
Posted in: Uncategorized