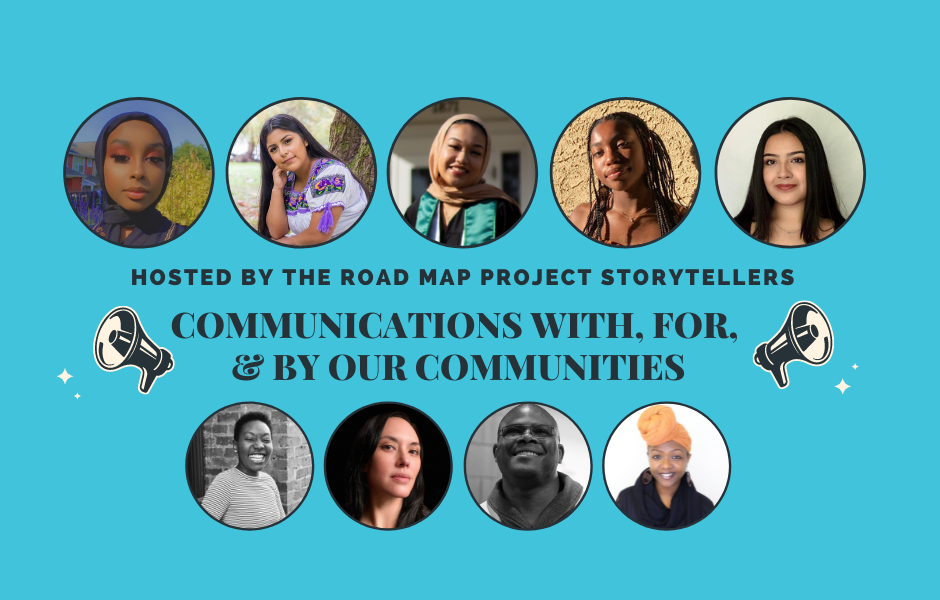 Come learn from a panel of communications experts speaking on anti-racism, education, youth engagement, and centering community. This event is hosted by the Road Map Project Storytellers, a group of five young leaders working on education justice projects.
MEET THE PANELISTS
DONTE FELDER
Founder & Executive Director, South End Stories
Donte is the founder and Executive Director at South End Stories, where they focus on "Trauma-Informed Arts Practice: Healing Through History and Creativity." Donte is a former Seattle Public Schools educator and has been the recipient of WEA's Humanitarian Award as well as Washington's Golden Apple Award. Donte comes from a family of seasoned educators and community leaders focused on pursuing social justice by developing anti-racist and anti-oppression practices in schools and communities.
JALAYNA CARTER
Digital Media Specialist, Solid Ground
Jalayna Carter has spent most of her life mesmerized by stories and made it official by studying literature and journalism in the Midwest. She's had the honor of working for an award-winning local broadcast station, a national nonprofit dedicated to citizen enrichment around political issues and candidates, and an award-winning print newsroom attached to one of the top ranking journalism schools in the United States. Her interest in diverse literature, places and people inform her ability to communicate across barriers and find new ways to make connections and form relationships.
SHARON HO CHANG
Managing Editor, South Seattle Emerald
Sharon Ho Chang 張曉倫 Tiunn Hiáu-lûn is an award-winning Taiwanese American author, photographer, and activist. She has written two books and currently lives in Seattle, Washington, where she is managing editor at the South Seattle Emerald.
TRAEANNA HOLIDAY
Media Director, King County Equity Now & Producer, Converge Media
TraeAnna Holiday is a Seattleite that cares deeply for her community. Her passion for Black liberation comes through her work in a wide variety of ways. She's an Ambassador for Africatown Community Land Trust (ACLT), Media Director for King County Equity Now (KCEN), and a Producer and TV Show Host with Converge Media.
Tune in to Facebook Live on Friday, Aug. 20, 3:30-5:00 p.m. PST!
Posted in: Other