Young learners in Centro Rendu's early learning program.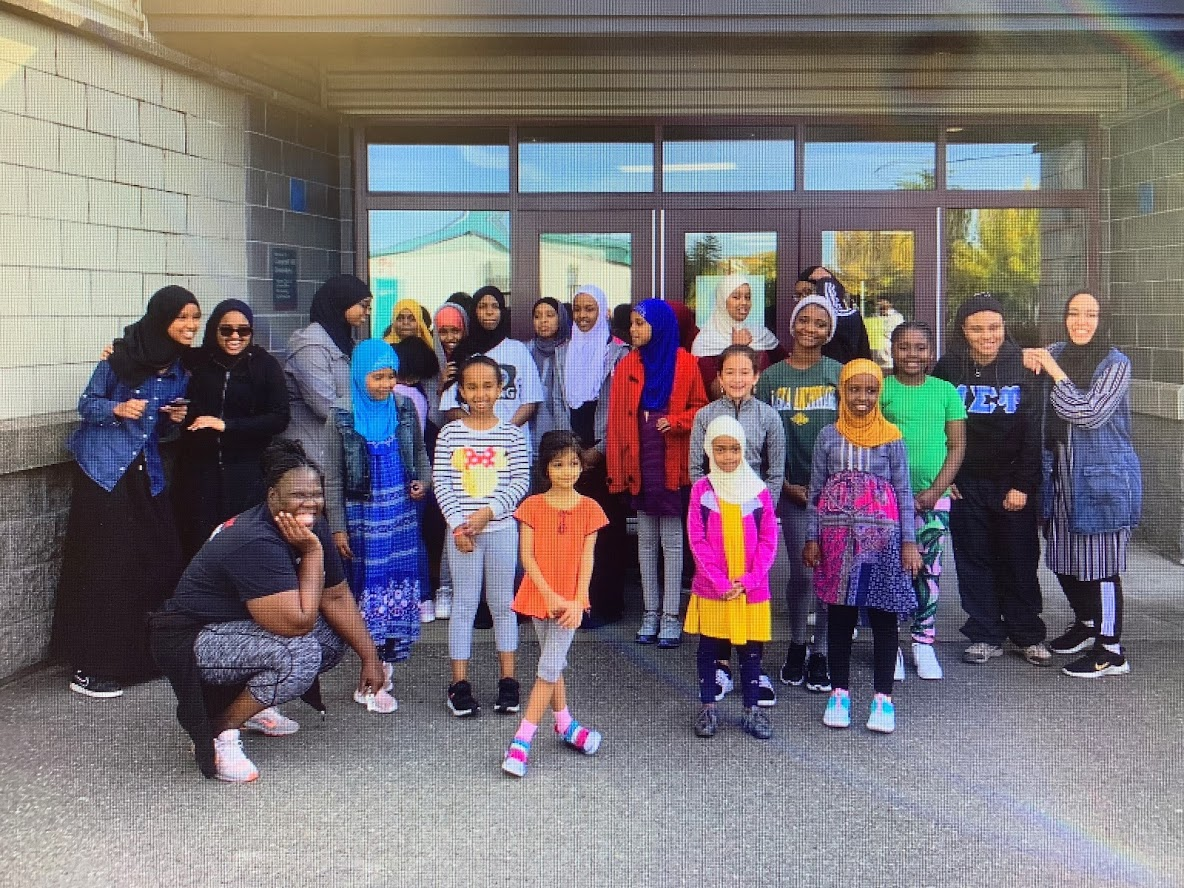 Thanks to various partners, African Community Housing and Development has provided opportunities for girls to engage in sports in a culturally relevant way in Skyway, Wash through its Partners in Youth program.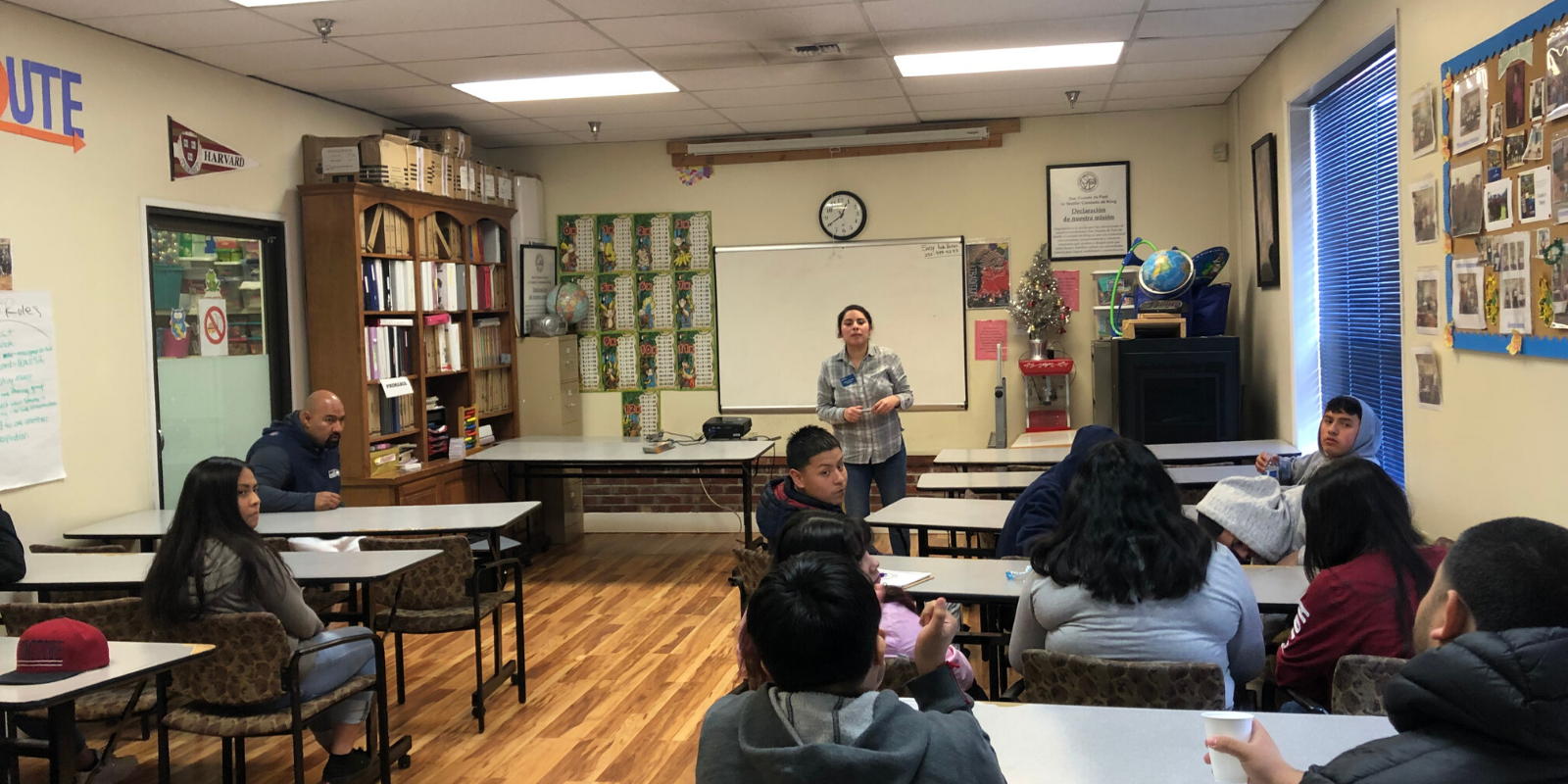 St. Vincent de Paul of Seattle King County and Centro Rendu's culturally-responsive "Re-Route" program for Latinx youth ages 11-17.
ACHD staff and volunteers support Creston Point families with food distribution in partnership with NW Harvest.
Immigrant communities of color know best what immigrant communities of color need. That's why, for organizations led by people from the communities they serve, multilingual services are not a supplementary program or an aid; rather, language access is a foundational part of holistic community services.
This is the approach of many culturally specific organizations in the Road Map Project region, including African Community Housing and Development (ACHD), which provides housing, economic, education, and family engagement support for African immigrant and refugees; and Centro Rendu, the Latinx services center of St. Vincent de Paul of Seattle/King County. Both organizations are partners in the Renton Local Improvement Network who have adapted their services during the pandemic to support their communities' emergent needs.
"We serve a very diverse community of people and work across not just housing and development, but also to build human capacity, and to bridge cultural differences," said Hamdi Abdulle, the executive director of ACHD. "We are intentional about being culturally responsive, and recognize we cannot serve all cultures, just those we represent."
At Centro Rendu, programs include English classes, a GED program, case management, and early learning. According to program manager Roberto Perez, "it's not just about helping people learn the basics of a language, but also helping them with what is called wraparound case management. If we don't help with other areas in their lives, then how do we expect them to be successful in their life? Sometimes it's financial, or basics needs, or food, or housing. Whatever it is, we're there for them."
It's clear why building the capacity of culturally specific community-based organizations like Centro Rendu and ACHD and supporting language access are Road Map Project Racial Equity Essentials, and how the wraparound services they offer are vital supports for students and families. Community-based organizations know that language access is more than a cut-and-dry translation process. While most of the services that ACHD and Centro Rendu offer are in the home languages of the communities they serve—respectively, East African languages (primarily Somali, Amharic, and Swahili) and Spanish—they go beyond just communication. They make community connections that are truly responsive to peoples' lived experiences.
"We build relationships and listen to the needs of our communities as we tailor our projects to serve them," said Hamdi. "ACHD often serves as a bridge to connect families to resources that they may not know about, or cannot access in their native language."
Along with the rest of Washington state, these organizations had to shift their services in March when Stay Home, Stay Healthy orders went into place in response to the COVID-19 pandemic.
"The Latino community likes to be together in large gatherings, and a lot of how information gets around is through word-of-mouth," said Roberto. "So in the beginning, in early March, we started to anticipate that this wasn't going to go away anytime soon… and at first, it did affect our ability to get information out, but we adapted quickly to getting everything virtual."
Centro Rendu already had pre-existing groups using communications tools such as WhatsApp and Messenger, and they began exploring more virtual meeting options like Zoom and Microsoft Teams. They adapted their English classes, student information sessions, and even social gatherings to online spaces. Roberto explained, "At first, it was a bit of a bump and some families weren't getting the information. But we've been training families on how to use technologies to connect to different platforms of communication. It really opened up new opportunities for how we communicate."
For ACHD, home visits to families were halted, so they adapted to become "COVID-ready" by working with families to explain how to stay safe and healthy. Their existing use of social messaging platforms provided the means to stay connected. Other key efforts have included supporting families through an eviction prevention program where ACHD provides culturally-relevant tenant education, counseling, and advocacy with landlords and public agencies (ACHD has existing partnerships with the county to aid in this effort). Rent support and food distribution efforts are also priorities. Top of mind is planning for what the fall will look like, and how ACHD can continue to serve families.
At the core, ACHD and Centro Rendu have created such powerful services because of their whole-community approach. Both organizations recognize how communities—and especially immigrant communities of color—must be engaged in collective ways. From early learning to youth development to adult education, they focus on family engagement through inclusive and interconnected strategies, providing social and emotional support in difficult times, advocating for their rights, and connecting them with crucial services.
Additional LIN Partners with multilingual services:
This story is part of a series on how Local Improvement Network partners are responding to the impacts of the COVID-19 pandemic. Read the other stories: Local Improvement Network partners feed the community in response to the impacts of COVID-19 and Local Improvement Network Partners shift work to support students' STEM and SEL needs online.
Posted in: Early Learning & Elementary Success , English Language Learners , Expanded Learning Opportunities , Family Engagement