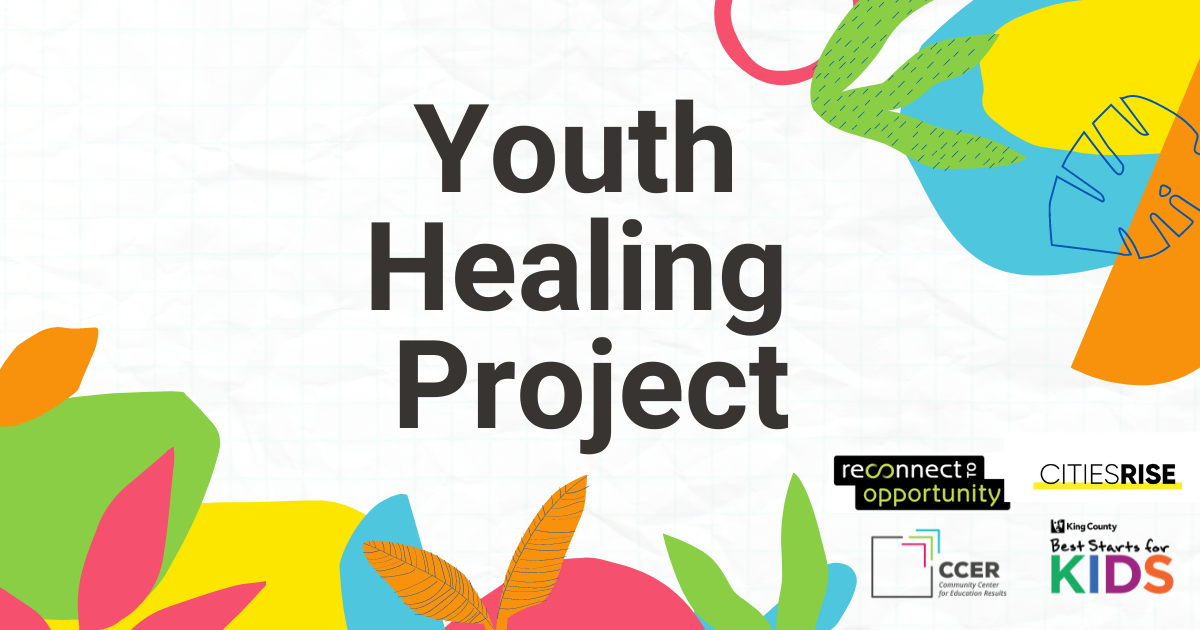 In summer 2021, the Youth Healing Project was developed in direct response to the findings of a 2020 youth survey conducted as the impacts of the COVID-19 pandemic began to be felt. The findings, summarized in In Their Own Words: Young People Describe the Impact of COVID-19, show the huge toll the pandemic has taken on young people's mental health, emotional well-being, and sense of connection.
Community Center for Education Results (CCER), King County Reconnect to Opportunity (ReOpp), and citiesRISE worked together on a first round of funding in June 2021. A group of young people representing different communities in South King County served as the selection committee, and chose eight youth awardees and three community-based organizations to receive funding. The Forum for Community Solutions at the Aspen Institute supported the initial round of Youth Healing Project grants.
The selection committee reviewed several applications about community-led projects and found many modeled the values guiding the decision-making: youth voice, equity and inclusion, collaboration and partnership, community involvement, taking risks and creating opportunities, quality of impact of services, centering the experiences of Black, Indigenous, & People of Color. Recognizing the need and the opportunity, the Youth Healing Project partners worked to secure additional funds in order to support more projects.
Recently, King County Best Starts for Kids (BSK) Community Well-being Initiative became the newest partner of the Youth Healing Project. Formed as part of the County's COVID-19 response, the Well-being Initiative will contribute resources to fund four additional projects through the end of this year. We're excited to announce the projects supported through this partnership and are thankful for the mental health supports and opportunities for connections these projects provide for the young people in our region.
F.I.G.H.T.
Formerly Incarcerated Group Healing Together (F.I.G.H.T.) is a grassroots organization founded and led by Asian and Pacific Islander men formerly incarcerated in the Washington State prison system. F.I.G.H.T is coming together with urgency to support Native Hawaiian and Pacific Islander (NHPI) youth and families impacted by tremendous grief. The organization will facilitate healing circles to help prevent future violence affected by unhealed trauma and emotional wounds.
Khmer Community of Seattle King County (KCSKC)
KCSKC's mission is to empower the Khmer community by bridging the intergenerational gap between elders and youth, through cultural preservation and promoting well-being. The funded project is a Khmer Wellness Club, a 7-week program for Khmer youth ages 16-24 to connect, learn, and support one another this fall season through a mix of virtual and in-person activities.
ForFortyTwo
ForFortyTwo is a BIPOC youth-led organizing collective working to combat systemic racism in Kent, WA through equity and education. The funded project includes a fellowship for South King County youth of color to learn strategies in community building, community organizing, and anti-racism coalition building work. The youth will also support a mutual aid event, as a practice of healing which can directly and indirectly support mental health, connection, and well-being.
South End Stories
South End Stories is a Black-led, trauma-informed arts education program serving students, families, and educators throughout Seattle and South King County. The grant funds will support the development of the South End Stories Youth Blog by expanding the youth editorial board, providing continued compensation for editors and contributors, inviting BIPOC leaders and artists to support and mentor the editorial team, and publicizing and amplifying the blog to encourage conversations and community storytelling.
Youth Healing Project partners are planning a cross-project dialogue in early 2022 for all Project participants to make connections and learn about each other's efforts to support mental health, emotional well-being, and a greater sense of connection for youth and young adults in South King County.
Posted in: Opportunity Youth