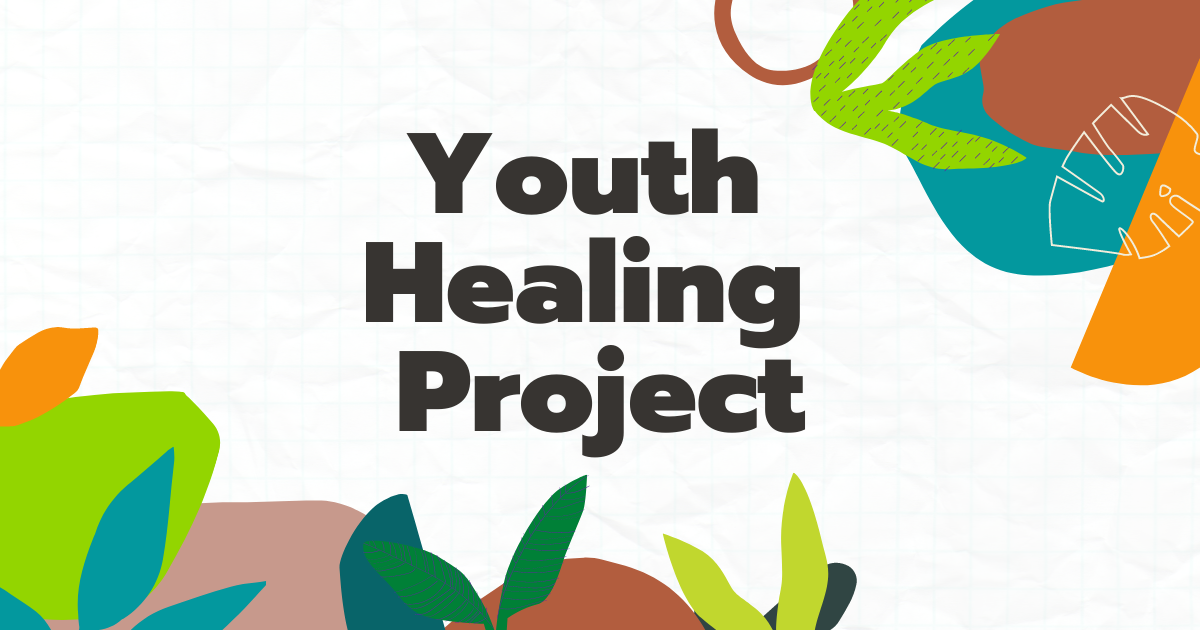 In spring 2020, young leaders designed a survey to understand how youth were experiencing the pandemic. The findings, summarized in In Their Own Words: Young People Describe the Impact of COVID-19, show the huge toll the pandemic has taken on young people's mental health, emotional well-being, and sense of connection.
The Youth Healing Project was developed in direct response to the results of the survey. Youth wanted to provide avenues for supporting young people in the Road Map Project region (South King County and South Seattle), and conceived of a funding effort to provide resources and support to grassroots organizations and young leaders advancing solutions that improve mental health and connect young people to their peers. Project partners support centering youth in leveraging their own experience and expertise and in developing creative solutions that are tailored for them, by them.
The project will serve young people ages 16-24 in South King County and is supported by three partners: King County Reconnect to Opportunity (ReOpp), citiesRISE, and the Community Center for Education Results (CCER). The ReOpp youth interns and young leaders played a large role in decision-making and priorities for the project, and will play a lead role in outreach and project management. citiesRISE will provide training, peer mentoring, and guidance to youth awardees. These awards are part of citiesRISE's Mental Health Accelerator and Learning Platform that identifies, mobilizes, and supports innovative work in the service of improving mental health and well-being. CCER, the supporting backbone organization for the Road Map Project, secured funding for this effort and is supporting with project management, communications, outreach, and administering the grants.
Project selection
Given the disproportionate impact of the COVID-19 crisis on our communities of color, the project will prioritize projects led by and for communities of color. and will fund a combination of projects led by youth and by grassroots CBOs. Projects were selected by a group of youth and young adults representing different communities in the South King County, and used the following values to guide their decision-making: youth voice, equity and inclusion, collaboration and partnership, community involvement, taking risks and creating opportunities, quality of impact of services, centering the experiences of Black, Indigenous, & People of Color.
We're excited to announce the eight youth awardees and three community-based organizations who will receive funds for this project.
Youth Healing Project Awards – Young Leaders
Daisy Mora: The main idea of my project is to create a healing class at Truman High School in partnership with El Centro de la Raza that will focus on healing our students' mental health and help them meet school curriculum requirements. I hope to reach my classmates on a spiritual level and spread kindness into the environment we create.
What do health and wellbeing look like to you? "Health and wellbeing to me looks like having motivation and energy to want to do things for yourself, also how you're treating your body. Another example is how you're treating your friends and everyone around you."
Taylor Tinsley: Through BIPOC Family Farm Time I will lead free family fun activities for BIPOC youth and families of all ages at various Black Farmers Collective locations. Activities will include story time with children books written by BIPOC authors and featuring BIPOC characters, culturally diverse music, yoga/mindfulness activities, arts and crafts, group games, and volunteer time at the farm.
What do health and wellbeing look like to you? "I've been reimagining health and wellbeing for me and I've realized the importance of collective care. Health and wellbeing for me revolves around developing a healthy and safe social community with people who look like me, curating a space to learn from others, and being able to share my feelings and experiences with others. As I'm in the process of healing myself, I've learned that healing is not linear nor does it have to be something done alone. Healing can be even more transformative with a community that cares for you."
Heena Vahora: Stop, Drop, & Love Yourself was created because youth in our community are exhausted. Balancing work, school, families, and organizing for justice during a global pandemic is unspeakably difficult. We create a safe and welcoming place for youth of color to practice self-care and learn about mental health through virtual bi-weekly meetings. We also do journaling, reading, art, mindfulness, and other activities to promote slowing down and self-care. SDLY wants to create a book club, to read books together that promote our wellbeing and most importantly HAPPINESS!
What do health and wellbeing look like to you? "We believe that health & wellbeing should be at the core of the community. If our communities are not healthy, we can't thrive. This looks like people being motivated, and determined to honor their needs and boundaries. Healthy communities are happy, because they are active, they set goals for themselves, and are committed to knowing when to take breaks. Wellbeing looks like cooking yourself a nourishing meal, taking a nap, saying no to something you don't want to do, and choosing yourself!"
Lidiya Gebre: The goal of my project is to de-stigmatize, raise awareness and build healthier African American and Black immigrant communities. We will invite POC mental health experts to our gatherings to build awareness and de-stigmatize mental health. We will also invite young activists to discuss the trauma young Black and African Americans face in this country. We will also have fun mindfulness games and painting sessions to allow young people to express themselves.
What do health and wellbeing look like to you? "High quality of life is a multi-dimensional concept that includes physical, mental, emotional, and social functioning. Physical wellbeing relates to feeling healthy and full of energy. Mental wellbeing includes feelings of satisfaction with one's life; balancing both positive and negative emotions, self-acceptance; seeking personal growth; autonomy, and generally experiencing optimism. And finally having high quality of social wellbeing with the support of family, friends, and the society. To me health and wellbeing means surrounding ourselves with people that love and treat us in a humane way, and putting ourselves in the right environment to feel mentally stable and happy."
Andrew Hong: Our project is multi-faceted, consisting of mutual aid, peer-tutoring, and career readiness services. In addition, we will compile and distribute resources related to mental health and job opportunities for youth. While fostering a "for-students, by-students" structure, our efforts create opportunities for student leadership and access to knowledge that they can then share with their own personal networks, creating a rippling effect of mutual aid and resources.
What do health and wellbeing look like to you? "First and foremost, health and wellbeing look like having your basic needs met (including housing, food, healthcare). Another crucial factor within health and wellbeing is being comfortable with yourself— specifically your identity, situation, and needs. This includes being able to feel safe and heard when reaching out for mental health help or other necessities. Similarly, having accessible resources for aid is key in maintaining health as, without readily accessible resources, one would not know where or how to reach out for help. Having self-awareness and healthy social interactions are also elements that are core to health and wellbeing as these elements contribute to building a sense of community belonging and higher self-esteem. Additionally, understanding one's self-limitations and being able to self-advocate for oneself when necessary is crucial to managing stress and maintaining a healthy workload, which funnels into health and wellbeing."
Brittany Rogers: The project is called "Youth on the Go". The idea is to utilize the amazing Federal Way walking tracks to incorporate walking, self-care and provide mental health support. This will give youth a boost through social interactions, physical activity and access to needed mental health resources. The main activities will consist of weekly walking events during June – August 2021.
What do health and wellbeing look like to you? "Health and well-being is when you feel whole, in mind, body and spirit."
Mutdung Bol: The purpose of our project is to create unity and advance the mental and physical wellness of the South Sudanese Community through a community retreat that will address mental health, culture and intergenerational differences and similarities with the end goal of fostering unity and creating solutions to our problems. The retreat will be hosted at Ayeko farm and will help us capture traditional teachings such as farming and tribal customs from our participating elders.
What do health and wellbeing look like to you? "Health and wellbeing are the building blocks to happiness and positivity. Health and wellbeing looks like having a positive approach and being able to adapt to situations. It also means the efficient balancing of time and energy to ourselves and our community. It is the awareness of one's physical, emotional and mental health. This awareness allows one to make necessary readjustments to parts of oneself that are misaligned. We can't stop life from happening to us, but we can control our responses and actions."
Mohamed Abdi: Our idea is to document about 10 youth on video talking about how important mental health is and how important it is to stay fit and active. We want to highlight how youth struggle to sustain their mental health, but if they stay optimistic and surround themselves with people that care for them they can succeed and be healthy. After we document kids' truths on mental health, we will produce a mini-series and drop it on social media. Other activities will include a big game of kickball to highlight them having good/healthy fun and a poetry slam.
What do health and wellbeing look like to you? "Health and wellbeing looks like fun, love, art, freedom of choice, and positivity! Improving mental health brings balance to the mind and body. So our goal is for our kids to have fun playing a great game of kickball to have a sense of community; but also allow them to do poetry to do a more critical creative fun project with their words."
Youth Healing Awards – Community-Based Organizations
Good Foot Arts Collective: Youth tell us there are few relatable resources for young people to learn about and get help addressing toxic relationships. Our new NO Excuses Campaign empowers youth to build an environment of no tolerance for violence, sexual misconduct, toxic behavior or abuse in BIPOC youth communities and in the Hip Hop dance community. BIPOC youth and adults will work with a local artist to create educational flipbooks to distribute to youth and young adults and to the Hip Hop community. We want to contribute our intersectional expertise about Hip Hop and violence prevention to empower young leaders to effect a dynamic cultural shift and create and support safe spaces free of violence, sexual misconduct, toxic behavior, abuse, predatory motives and grooming.
Alimentando al Pueblo: Our project is called the "10th House" – a reference to an astrological "house" connected to our contributions to society, influence, our personal responsibility – how we show up in Community – and how these influences are tied to our professional and personal paths. This project is rooted in the concepts of self and collective determination and giving young people access to possibility models in the community. Facilitators will bring authenticity, connection, and hands-on activities that plant seeds of joy and creativity. We intend to work with young women, femme, nonbinary, trans people of color in South King County, to allow our young people to see beyond Covid-19 and create a space where they feel seen, heard and collectively heal through art, self expression and hands-on activities. We will incorporate youth voice in the planning of the discussion and activities in each youth circle. This project will be the foundation for work we are seeking to formalize with young folks in our Community.
SG Education: This is a participatory and action research project focused on engaging Latinx and K´Iche youth to assess the impact of COVID-19 in their own communities. Youth will develop leadership and digital skills as they organize, promote and facilitate workshops and design a report and Guide of Pictograms to promote awareness. This project started as an adult digital and English literacy and socio-emotional support workshop for parents, but as we worked closely with families, parents expressed concerns about their children struggling with remote learning and in many cases, dropping out. This is how we established a network of Latinx and K'iche teens with whom we´ve been working. This project will promote mental health and emotional wellbeing through different activities and practices such as: Training in facilitation of story circles, opportunities for positive interpersonal connections, organizing and assessing information to develop critical thinking skills. Furthermore, creative expression helps externalize and express our internal experiences helping to organize what may feel chaotic and disordered.
As projects progress, learn more about the ongoing work of the awardees and stay connected through social media via #youthhealingproject.
Posted in: Opportunity Youth