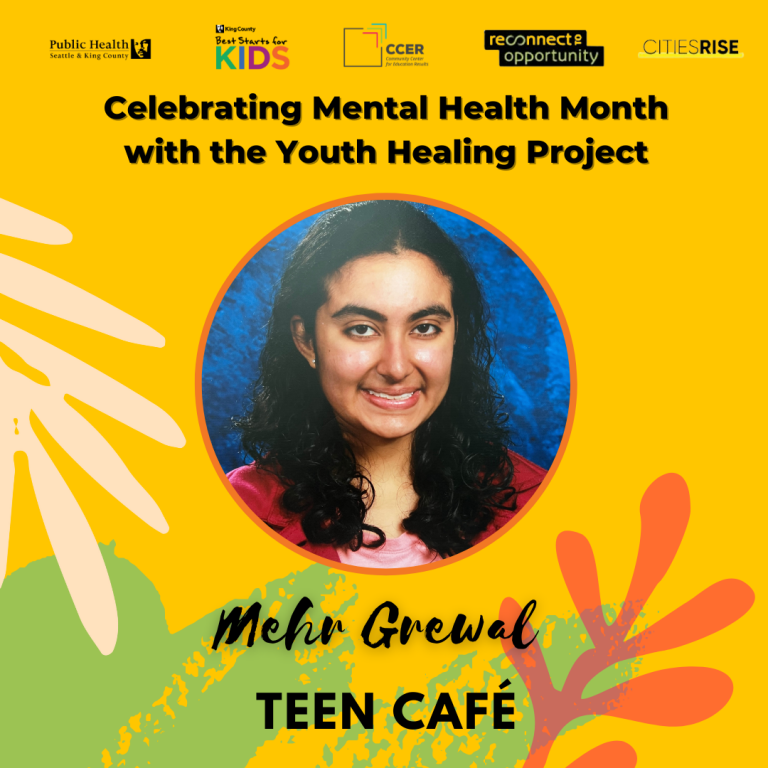 In honor of Mental Health Awareness Month, we're highlighting changemakers engaged in our Youth Healing Project, or YHP. The YHP was developed in direct response to the findings of a 2020 youth survey conducted as the impacts of the COVID-19 pandemic began to be felt. Community Center for Education Results (CCER), King County Reconnect to Opportunity (ReOpp), and citiesRISE worked together on a first round of funding in June 2021. A group of young people representing different communities in South King County served as the selection committee and chose youth awardees and community-based organizations to receive funding.
This week, we're featuring Mehr Grewal, Founder and Director of "Worth a Shot," which runs the Teen Café program. Mehr describes Teen Café as an initiative that was designed to "provide a platform for youth to share their thoughts in a safe space." Currently available at two Bellevue schools, Teen Café not only helps teens to deal with daily stressors, but also provides CPR training and substance abuse education.
"We've designed a program that would be appealing to youth, rather than being preachy," Mehr tells CCER. "Our team includes a mental health counselor and [we have] an open forum to discuss thoughts and stressors through games and opinion-sharing." Through the mental health counselor on staff, Teen Café offers mental health workshops throughout the year, focusing on topics like depression, anxiety and post-traumatic stress.
What's next for Teen Café and Mehr?
"In the summer, we'll be offering a summer camp focused on mental health support for teens, and it will be composed of several outdoor activities based on team building, leadership, and combatting stress," Mehr notes. "I am honored to be a part of YHP and to be inspired by so many other young people. I'm glad we can make a positive difference in our community."
For more info on Mehr and Teen Café, you can reach out directly at mehrgrewal28@gmail.com. For more info on the Youth Healing Project, click here.
Posted in: Uncategorized