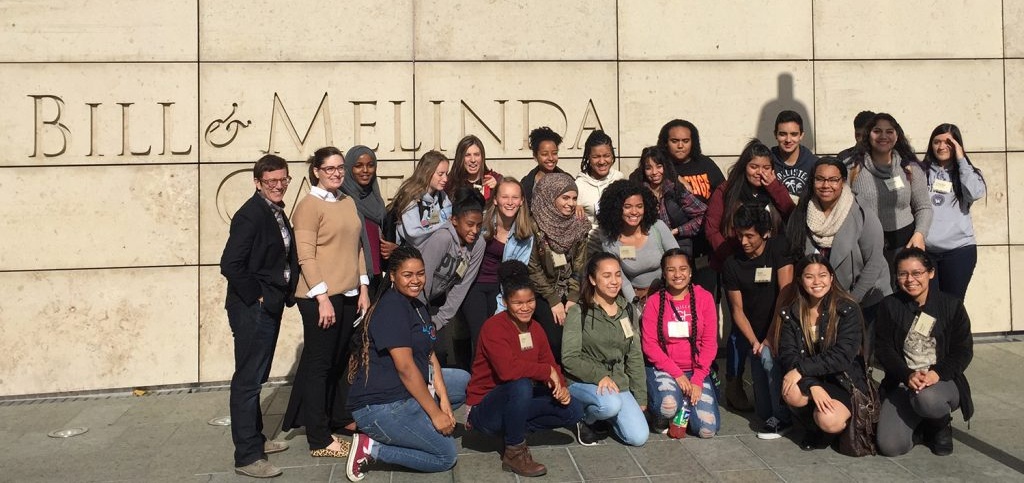 Mt. Rainier High School students at the Bill and Melinda Gates Foundation.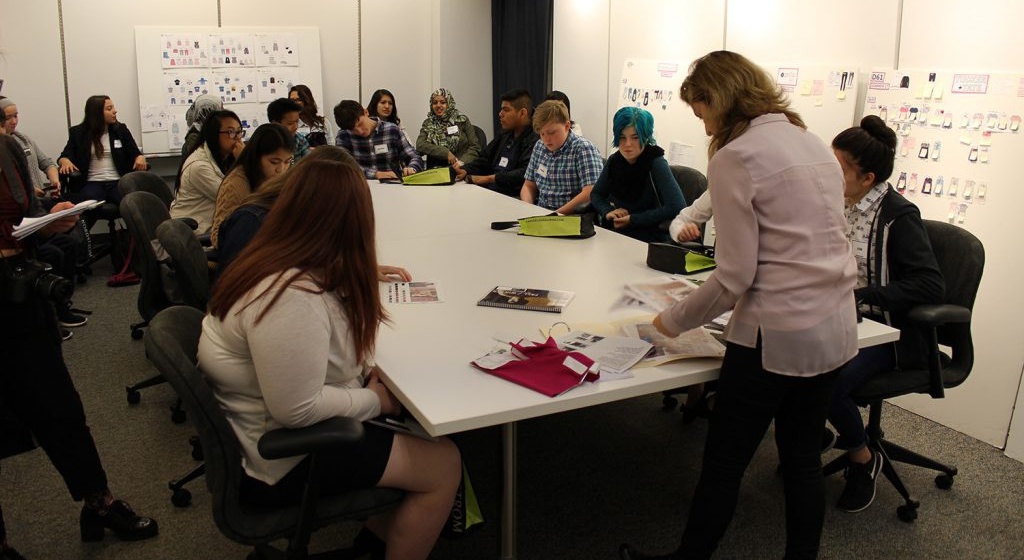 Students learn about color theory, clothing design and customer service at Nordstrom. (Photo Courtesy of Nordstrom)
Thanks to a partnership with Challenge Seattle, more students are getting real life exposure to careers. Hundreds of students participated in worksite tours, heard from employee career panels and top executives visiting their schools and after-school programs for the first time this year.
As of today, only 31 percent of Washington high school students go on to earn some sort of postsecondary credential. This is unacceptable, as the majority of nearly 740,000 jobs that will be available in Washington State in the next five years will require postsecondary education or training, according to research by the Boston Consulting Group. Giving students the chance to explore how their passions and classroom curriculum relate to career opportunities gives them a crucial jumpstart to understanding the realities of the job market and the wide variety of education pathways they can take to their dream careers.
That's why the Road Map Project and Challenge Seattle partnered this year, to make college and career exploration in our region bigger and better than ever before and to reach more students, families, and communities with the message that there are great careers available for Washington students, and a variety of education pathways they could take to reach them. Students got to learn what organizations like PATH and the Bill & Melinda Gates Foundation are doing locally and globally with their philanthropic efforts, hear from Nordstrom employees who started as retail associates and worked their way to corporate careers, and even got to pitch their entrepreneurial ideas to venture capitalists at Madrona Venture Group with help from the Greater Foundation.
We can't thank the companies who participated in worksite tours enough – each one of the employees who shared their personal career and education pathway provided a real and engaging experience to students, read what students had to say themselves about just a few of the tours:
"I have always wanted to learn more about philanthropy and what a career in humanitarian work may look like. In the future I hope to work with nonprofits through international business, this field trip has given me a better insight on what that could mean!" – Mount Rainier High School student, after visiting the Bill & Melinda Gates Foundation
"Thank you Nordstrom staff! I enjoyed learning about the variety of jobs and education pathways. I appreciated how the speakers were kind and engaging." – Lindbergh High School student
"REI Staff – thank you for this experience, it was amazing and I had a blast. I learned a lot about how to find out what I want to do after school." -Matthew, Lindbergh High School student
Over 900 students were reached by Challenge Seattle Programming this year, including over 500 students that attended day-long field trips to companies. We look forward to continuing to expand the partnership with Challenge Seattle to reach more students throughout the year.
You can see more great highlights from the week:
Posted in: College and Career Readiness