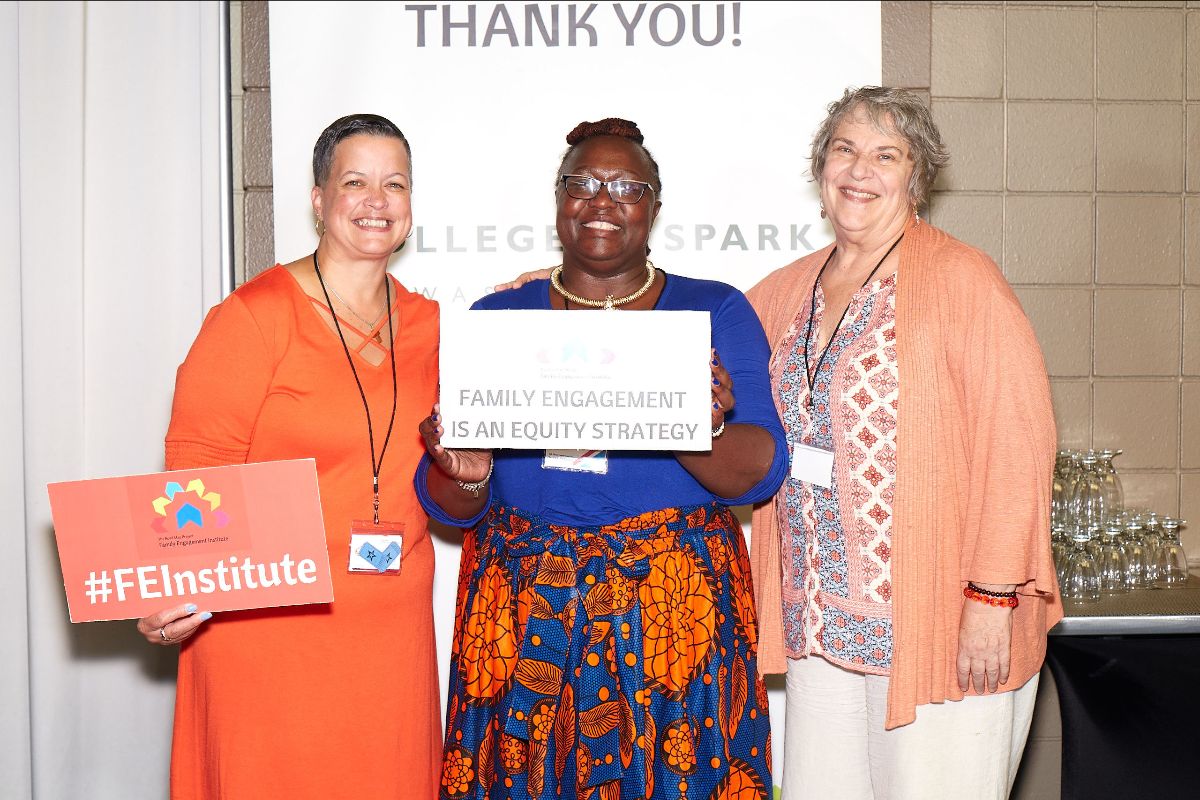 Anita Koyier-Mwamba, Seattle Public Schools, (center), pictured with Carlina Brown-Banks, Community Center for Education Results, (left) and Paula Steinke, Soar.
"If I had your credentials, I would not waste my time with this family stuff!"
"Just pass the bar exam and practice law."
"A whole law degree and you choose to work in family engagement? Think of how much money you are leaving on the table."
These are all variations of comments I have received over the years. These statements speak to our societal values and promote a classist hierarchy of professions and beliefs about families.
I am a proud practitioner of family engagement. It is the most disregarded aspect of education, yet one of the most profound. Family engagement demands a full investment in relationships between students, families, schools, and communities. It requires adults to partner with each other to create access to learning by making school safe—physically and psychologically, creating identity-safe spaces and offering innovation and creativity in content and pedagogy.
When I entered this field over six years ago on the recommendation of Sebrena Burr, a passionate advocate and family engagement leader, I did not know such a profession existed. She recommended me to Seattle Public Schools as a parent leader.
As an immigrant from Kenya, what I knew of education was great. Education was the key to a bright future. Education was preparation for a future of my design. Education was agency: the power to make the best decisions for my life and to contribute to our highest democracy. I knew this because Kenya's national budget reflected it, school days and times were consistent and predictable and the community rewarded academic strength. Teachers were very engaged with reviewing data and collaborating on how to improve outcomes for students. Many teachers came to school early to tutor students who needed additional supports.
I took for granted that teachers and school administrators knew how to engage families in the learning process and that teachers can effectively differentiate learning for every student. When my oldest child started school (at Seattle Public Schools), the school was so warm and open to parents and younger siblings. There were days when I would drop her off and just spend time in the parent room connecting with other parents or reading with my infant/toddler son. While there, I met the literacy coach, pre-K lead and parents with students in higher grades. I learned that parents wrote a grant to bring steel pans into the school and to host dynamic cultural events that were identity affirming for the children in the school.
All these things distracted me from understanding what I needed to know about the dynamics of socio-political contexts of race, class, gender, sexual orientation and access to education in the United States and our region. I subsequently learned that it is not enough to have warm feelings about the social aspects of school. Children must learn to produce high quality work, be tenacious in acquiring knowledge, and apply the knowledge acquired. My role as a parent is to make sure my children learn, develop a work ethic and know how to advocate and use their voices in the face of educational injustice.
By the time my son was four and starting pre-K, Sebrena was a parent and the school's family engagement practitioner. Sebrena helped me understand how important it is for parents to be engaged at school and to be recognized for their contributions to school improvement. She connected me with the Seattle Public Schools central office to become a parent leader. I received an hourly stipend. I did not know that I was entering what would be my sole purpose for the next few years. From this work, I became a community family engagement practitioner with a community-based organization.
Anita Koyier-Mwamba is the Manager of Family Partnerships for Seattle Public Schools and a member of the Road Map Project School District Family Engagement Leaders action team.
This post is the first of two blog posts written by Anita about her journey to becoming a parent leader and her consequent work in our region.
Posted in: Family Engagement