Community Leadership Team
The Road Map Project is pleased to introduce its inaugural Community Leadership Team, comprised of regional leaders who strive to improve educational and economic equity for South Seattle and South King County youth. The Team will provide visionary leadership and community accountability as the region works to achieve Road Map Project goals.
Zahra is a first-generation refugee, a University of Washington graduate and mentor who is committed to helping youth of color navigate the education system.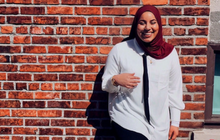 Erin is a lifelong South King County resident with a strong track record of leadership and service in SeaTac and Des Moines. She served as the program manager for Graduate Highline.

Sebrena Burr 
Sebrena is a long-standing community and education advocate and current Seattle Council PTSA President.
Freda grew up in the White Center neighborhood and is a proud alum of the Year Up program. After studying at Seattle Central, she committed to a year of AmeriCorps service as a High School Student Success Coach.

Regina is the founder of the Somali Parent Education Board and believes the biggest role in this world is being a parent. She considers it a privilege to be working with parents like her every day and learning from them.

Karly is a college and career access professional in Highline Public Schools and a grass-roots community organizer for the human rights of Filipinas with Gabriela-Seattle and Bayan Pacific Northwest.

Mary Fertakis 
Mary is longtime community leader in Tukwila and served on the Tukwila School Board for 22 years. She is committed to using her experience to improve racial equity in our education systems.

Greg Garcia has worked with youth and communities of color for over 20 years, including serving as Executive Director of Washington Asian Pacific Islander Community Services. He currently serves as the Supporting Youth Community Impact Manager for United Way of King County.

Sean is a longtime resident of Rainier Beach. He is a pastor, parent advocate and dedicated father who works to make a difference in the lives of young people.

Mirya works to serve and support vulnerable Latino Families in South King County through her work with Centro Rendu at St. Vincent de Paul and through her deep community connections in Kent and Renton.

Larissa grew up in South King County, works to support college access, provides Know Your Rights trainings for undocumented students, and is active in community organizing in Burien.

Kevin grew up in High Point, is currently attending the University of Washington for his master of public administration, and is the executive director of Hey Mentor.

Catherina Willard lives and works in White Center. She is the proud mother of two young adults, a committed antiracist community organizer, and has been working in family support for more than 20 years.