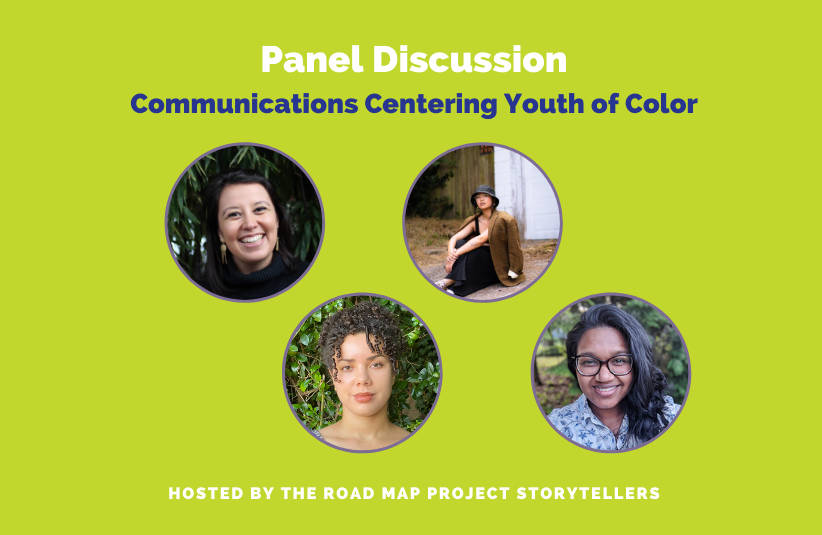 Come learn from a panel of communications experts speaking on anti-racism, education, youth engagement, and centering community. This event is hosted by the Road Map Project Storytellers, a group of five young leaders working on education justice projects.
MEET THE PANELISTS
ADRIANA ZAZULA
Communications Coordinator, School's Out Washington
Adriana is a nonprofit communicator and creative from the Greater Seattle area. She is an AmeriCorps VISTA Alum and actively seeks opportunities that support youth, especially young women of color. Her efforts range from coordinating volunteer events for United Way of King County to curating poetry from incarcerated youth in New York City.
ARIA WILSON
Fundraising and Communications Manager, Youth Development Executives of King County
Aria Wilson (she/her) was born and raised in Seattle, Washington, and has always appreciated creative writing and expression and a passion for working for children and youth with her background in early childhood education. She is currently the fundraising and communications manager at Youth Development Executives of King County (YDEKC) and is primarily responsible for maintaining a comprehensive communications plan, producing monthly newsletters, managing grant activities, and ensuring that all supporters of YDEKC's mission are recognized.
JENN SMITH
Engagement Editor, The Seattle Times Education Lab
Jenn Smith (she/her, @JennSmith_Ink) is the engagement editor for The Seattle Times Education Lab, a co-leader of the newsroom's Diversity & Inclusion Task Force and a member of the Asian American Journalists Association. She previously spent 15 years working as the engagement editor and education reporter at The Berkshire Eagle, a daily news publication located in Western Massachusetts. She's proud to be at the virtual table with these amazing communicators of color!
JORDAN FARALAN
Communications and Community Engagement Manager, Powerful Voices
As a queer Filipina, Jordan Faralan believes it is her duty to resist. Jordan works with rad young black and brown girls* on Coast Salish and Duwamish land at Powerful Voices as the Communications and Community Engagement Manager. Outside of work, she fights for the liberation of the Philippines and all people as the National Secretary General of Anakbayan USA, and she tries really hard to drink more water throughout the day.
Tune in to Facebook Live on Thursday, Aug. 5, 3:30-5:00 p.m. PST!
Posted in: Other