We are happy to announce the Road Map Project has a new website, http://www.roadmapproject.org/
Months in the making, this site is the product of feedback and insight from many Road Map Project supporters. Thank you to everyone who contributed to this effort.
Our goal was to create a site that enables new people and organizations to easily plug in and align with the Road Map Project while also keeping everyone informed on improvements in education in South Seattle and South King County.
We will be working continuously to improve roadmapproject.org and we want to hear from you. Please feel free to share your comments with us.
Thank you for all your hard work!
– The CCER team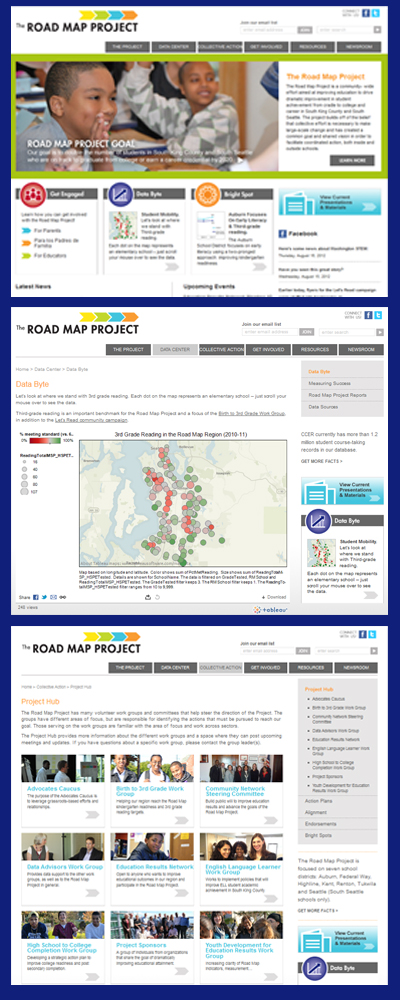 Here are some features you'll find at roadmapproject.org:
Data Bytes: We created these data snapshots to highlight patterns and feature the ways data is being used to influence programming, practice and system-change
Bright Spots: There is a lot of great work happening in the Road Map region and Bright Spots are a place to show positive momentum
New audiences: We're aiming to more fully engage parents, educators and Spanish speakers in the project by using our homepage to invite their participation
Presentations and materials:  This is your one-stop shop for basic information and downloads about the project
Project Hub: For those who participate in work groups, the Project Hub will be the place to go for meeting information and documents. These pages are also a resource for anyone interested in learning more about the work groups' charges or memberships.
Get involved: Find new ways to engage in the project, from community campaigns to events to the Small Grants Fund
Road Map region schools: This interactive map does a great job of showing the schools and districts in the Road Map region
Connect: The top right-hand corner of each page features links to connect via Facebook, Twitter and email
Posted in: Other