By Kjerstin Wood
Note: Public Health – Seattle & King County and Road Map Project are releasing a series of blogs related to the county-wide activation of Vroom, a resource for organizations and families to help everyone learn how to be a brain builder for kids. Each blog highlights 'how' a different program, family or individual is utilizing Vroom to support child development! You can read the first blog about Nurse Family Partnership here, and the second about Odessa Brown Children's Clinic here. Learn more about Vroom at www.joinvroom.org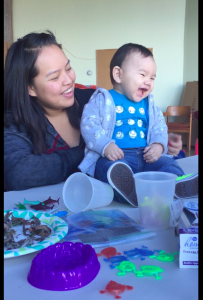 After the success of the Vroom pilot in 2014, the expansion of Vroom activation throughout King County is an exciting opportunity to re-energize organizations and individuals dedicated to promoting child development in a variety of ways.
Many organizations that were not involved in the pilot had the opportunity to join the kickoff event at New Holly Gathering Hall in late February – including those from the Ina Maka Family Program, a home visiting program from the United Indians of All Tribes Foundation. Ina Maka (pronounced eenah-makah) means Mother Earth in the Sioux language. Katie Hess, Ina Maka Family Program Manager, took the time to answer some questions about how they are integrating Vroom into their work with families.
Could you tell us a little bit more about Ina Maka Family Program?
This program offers families with American Indian/Alaskan Native children one-on-one time with trained Parent Partners, who work with families to make sure they receive support for newborn and young children. What is unique about our home visiting program is that it is completely voluntary, it's easy and personal. Parent Partners work with families to find a schedule that works for them, and typically visits happen twice a month for an hour at a time. The partners play with families and their children and discuss a variety of topics, answering any questions or concerns.
What made your organization want to get involved in activating Vroom?
We were able to attend the kickoff meeting and got excited about the opportunity to connect with similar providers and support an alternative method to promote early childhood development. We are always looking for new tools to support the work that we do. It was great to host the first King County Vroom Network meeting at the Daybreak Star Indian Cultural Center and meet the wide variety of people and organizations that have creative ideas for using Vroom to help families.
How does Vroom integrate into your current work?
A big piece of what we do with families is promote and teach early childhood development during home visits. We like to use evidence-based curriculum to teach families how they can help build their children's brains, so things like the Vroom tip cards are great to use during visits to share the simple and easy tips. We've encouraged expectant parents to download the app and receive the emails, so that they can get reminders after the baby comes to start having those brain building moments. One of our Parent Partners told me she feels it continues her work after she leaves, and is excited to get more families using it. Our staff likes the materials and feels they are very approachable and colorful, families like it and overall the response has been overwhelmingly positive! Our organization is really committed to building an infrastructure for early childhood development in King County and I think Vroom helps build that support system, so we're happy we get to connect with Vroom and all the other providers in King County that have joined this network.
Visit Ina Maka Family Program's website
"Like" Ina Maka Family Program on Facebook
Posted in: Early Learning & Elementary Success