In a few days, the first student cohort group of our state's College Bound Scholarship program will start their senior year. We want these kids to realize the promise of this scholarship, so it is time again for "all hands on deck." School districts have received student lists from the Higher Education Coordinating Board (HECB) showing them who the kids are in their high schools. There are about 1,665 College Bound eligible students in the Road Map region.
Here's where they are: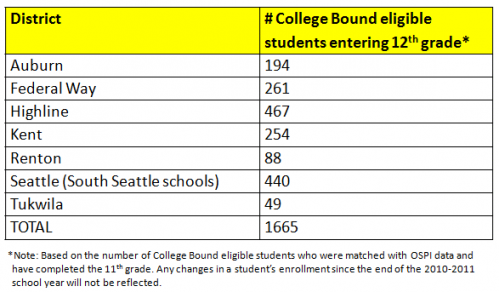 Hopefully, each district will sit down with these students and help them take the best possible courses this year so they improve their chances to get into the schools they want, without remediation. We are asking community colleges to reach out to them, and help them take the community college placement tests this fall. Early assessments can provide good information on whether or not the students are ready for college-level work.
All College Bound Scholarship students need to complete the FAFSA by the end of January 2012. We will be working with many partners to get a strong volunteer corps trained to help families complete the paperwork. We will send out data updates frequently, so we can see how we are doing. If you want to help, let us know. It will take a huge community effort to support these students.
Posted in: College and Career Readiness