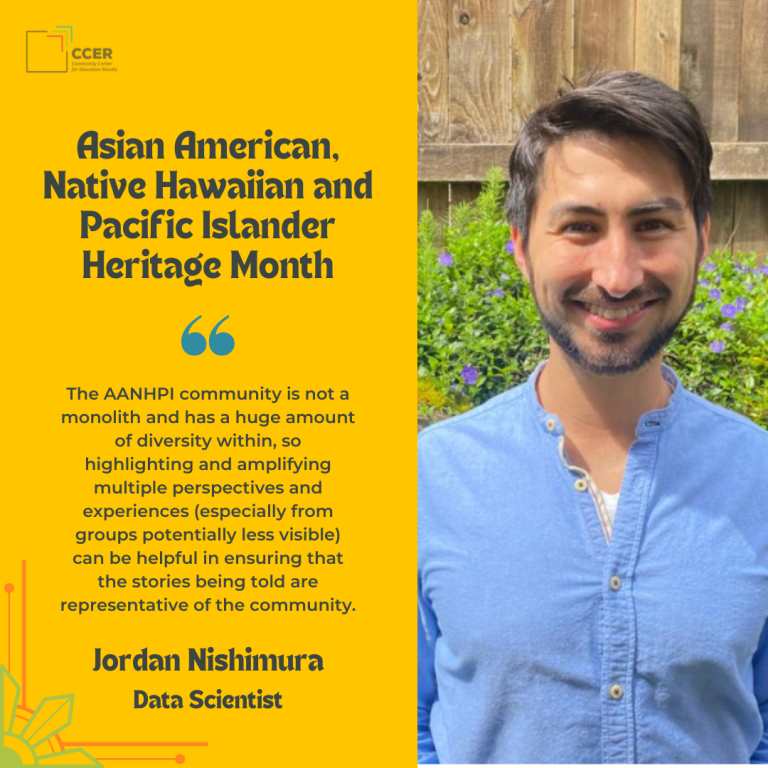 We're back at it again this week–celebrating our AANHPI family at CCER! This time, we have our Data Scientist, Jordan Nishimura, kicking it with us to talk about increased representation of Asian Americans in the media, what he enjoys most about being part of his community, and approaching storytelling from an asset-based mindset.
CCER: What brings you the most joy as a part of your community?
JN: While there are many things that bring me joy as part of the AANHPI community, the number one thing that comes to mind is the food. My dad worked as a cook in Japanese restaurants when he came to America, and as a result I grew up eating a lot of delicious Japanese food. I still love it to this day, but I also enjoy trying different Asian cuisines. Asian food is incredibly diverse and in my opinion some of the most flavorful in the world. I love how it can create an opportunity to bond with others, learning about different cultures and being able to share mine.  
CCER: What are some ways folks that are not part of the AANHPI community can tell stories from an asset-based standpoint? 
JN: I think like any asset-based approach, folks should highlight strengths, achievements and positive qualities rather than just challenges, struggles and deficits. At the same time, it's important to be mindful of the potential these stories can have for promoting stereotypes like the model minority myth. One thing that helps is avoiding broad generalizations. The AANHPI community is not a monolith and has a huge amount of diversity within, so highlighting and amplifying multiple perspectives and experiences (especially from groups potentially less visible) can be helpful in ensuring that the stories being told are representative of the community.  
CCER: What are some ways you see hope for the future narrative of your community?  
JN: One way I see hope is in the increased representation of Asian Americans and the more diverse roles that they play in media. Of course, there is still a ways to go but seeing casts full of Asian Americans in various shows and movies makes me happy and hopeful.  
CCER: What's your favorite childhood memory? 
JN: One of my favorite childhood memories is traveling to Japan with my brother. My parents sent us there a few times to spend about a month of summer with our family in Japan. I loved playing with my cousins, eating delicious food, and loading up my bags with Japanese snacks and candy from this nearby store to bring back home.
You can read more about Jordan (like how he taught math for 6 years!) here.
Posted in: Uncategorized