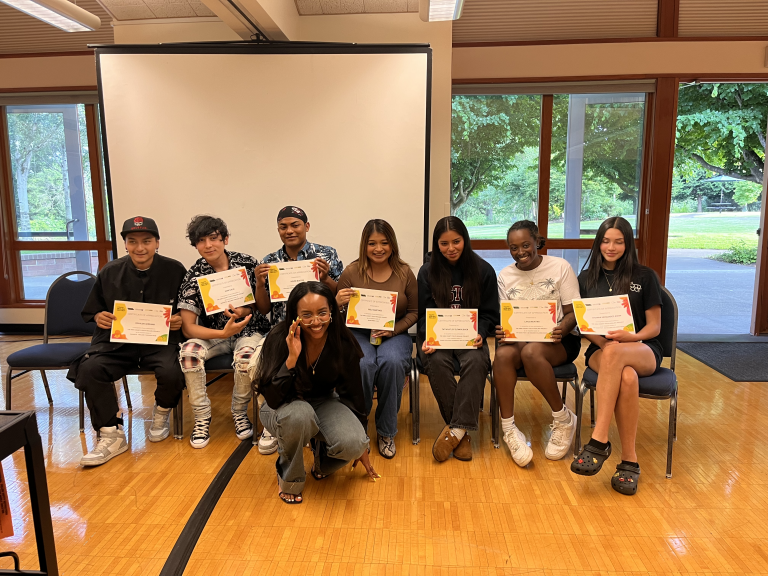 Alongside Best Start for Kids, King County Public Health, Cities Rise and Reconnect to Opportunity (ReOpp), CCER co-hosted the Youth Healing Project End of Year Celebration. Youth healers from all over the Road Map Project region convened in-person and virtually to celebrate the hard work they put into healing their respective communities.
Youth Healing Project 2.0 leaders included Cielo Martinez (Newcomer Club), Gustavo Alfaro (Newcomer Club), Tairyn Ahshai (Building a Stronger Tomorrow Today), Sadye Derstadt (Knitting for Needs), Kaleb Kalkidan (Family Dinner), Alan Nguyen (Family Dinner), George Zhang (Collective Youth), Emily Morado (Collective Youth), Anthony Serrano (Leaders of Tomorrow), Tatiwyat (Sc'Eltakw) Buck (Youth Athletes for Mental Health), Osvaldo Serrano (SanArte, Hever Bustos (SanArte), Dani Calix (SanArte), Laney Brackett (Teen.Self.Health), Layla Muktar (The Good Foot-No Excuses Coloring Book), Ayianna Hernandez-Kiehn (The Good Foot-No Excuses Coloring Book), Mehr Grewal (Worth a Shot-Teen Cafe), Donna Giron (Youth Healers), Diego Gonzalez (Youth Healers), Fatima Juarez (Youth Healers), Joshua Walters (Student Connect), and Clarissa Perez (Joy & the Hood-Youth Wellness Collective).
These collaborative and creative leaders shared stories of how their respective projects impacted them, lessons they've learned and their hopes for the future. "This project taught me that through healing others, I was healing myself," said Layla Muktar, whose project, alongside Ayianna Hernandez-Kiehn, is an interactive coloring book aimed toward BIPOC youth grades K-5. Performances included an original song by SanArte, and a choreographed dance by Newcomer Club.
Looking to get involved with the Youth Healing Project in the year to come? Find out more here.
Posted in: Uncategorized