24 Schools in South Seattle and South King County Earn Achievement Awards
SOUTH SEATTLE / SOUTH KING COUNTY —Twenty-four schools in the Road Map Region of South Seattle and South King County are receiving Washington Achievement Awards for 2011. The Washington Achievement Award is sponsored by the Office of Superintendent of Public Instruction and the State Board of Education.
The Road Map Project's goal is to double the number of students in South Seattle and South King County who are on track to graduate from college or earn a career credential by 2020. The project is committed to nothing less than closing the unacceptable achievement gaps for low income students and children of color, and increasing achievement for all students from cradle to college and career. The Road Map Region includes the Auburn, Federal Way, Highline, Kent, Renton, South Seattle and Tukwila school districts.
"There are bright spots of achievement throughout the Road Map Region," said Mary Jean Ryan, Executive Director of the Community Center for Education Results. "I applaud the hard work and dedication of the staff and students in these award-winning schools."
Schools are being recognized for being top performers in seven categories based on two-year averages:
• Overall Excellence
• Language Arts
• Math
• Science
• Extended Graduation Rate
• Improvement
• Closing Achievement Gaps
Below is the list of the 24 award-winning schools from the Road Map Region (click the image to enlarge)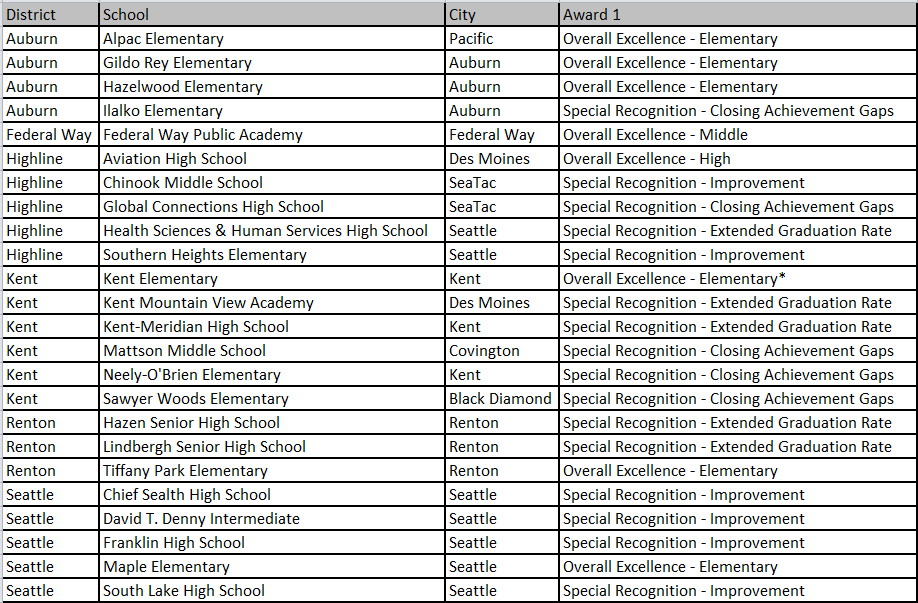 Posted in: Other