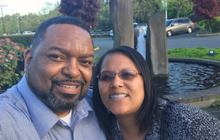 The Road Map Project recently announced its first-ever Community Leadership Team, a group that will provide visionary leadership and community accountability for improving education results and closing achievement and opportunity gaps. Over the next few months, you'll get to learn more about each of the 13 new members through this series.
Sean Levias is a longtime resident of Rainier Beach. He is a pastor, parent advocate and dedicated father who works to make a difference in the lives of young people. Sean is also a current student himself at Central Washington University studying information technology, with an emphasis in cyber security. He strongly believes that education is the key for our youth to succeed in life.
1. In one sentence, how would you sum up your day-to-day work?   
I would sum up my day to day work as working hard to make a change in our communities one child at a time.
2. What do you want people to know about the community or communities you are a member of?
That South Seattle, from the Central District to Skyway, is a beautiful and very diverse community that embraces all our multicultural faces.
3. Tell us about a time when an educator or educational experience made a big impact on you. 
Going back to school to pursue a degree as a working adult had a great impact on me. I decided to go back to college after challenging my children to attend college while they were still young and before starting a family of their own. I wanted to make it clear that if I could go back to school while working, raising a family and running a church, then they should have no problems going to college. In June of 2016, I graduated from Highline College with an associate of arts and I am currently attending CWU working on my bachelor of science.
4. Who's your favorite social justice advocate, living, dead or fictional?
This is not a fair question because I have more than one. I believe that Rev. Dr. Martin Luther King, Jr. would be at the top. My living social justice advocate would be Dr. Carl Mack.
5. If you can make one immediate change to the education system, what would it be?
If I could make one immediate change to our educational system, it would be to provide equal access to technology. Classrooms across districts would be equipped with the same classroom technology and all students would have laptops or iPads.
6. What are your hopes for the Community Leadership Team?
My hopes for the community leadership team is that we make a humongous positive impact on education and social justice in our communities. Our children should be able to grow and to blossom in communities they live in.
7. Finish this sentence: Equity is…
…leveling the playing field so that everyone has an equal chance to succeed.
8. What was the last thing you read, watched or listened to? Would you recommend it?
The last thing I read was Thurgood Marshall's The Equality Speech. I would recommend it; I think it is a great read.
9. Where is your favorite place to go in the Road Map Project region (South Seattle and South King County)?
One of my favorite places to go in the Road Map Project region is out with my wife to the Island Soul restaurant. I also enjoy walking around the Seward Park loop for exercise.
10. What is one of your most cherished family traditions?
One of my most cherished family traditions is family dinner during the holiday seasons.
11. What inspires you?
God, Family, Community.
Posted in: Community Leadership Team