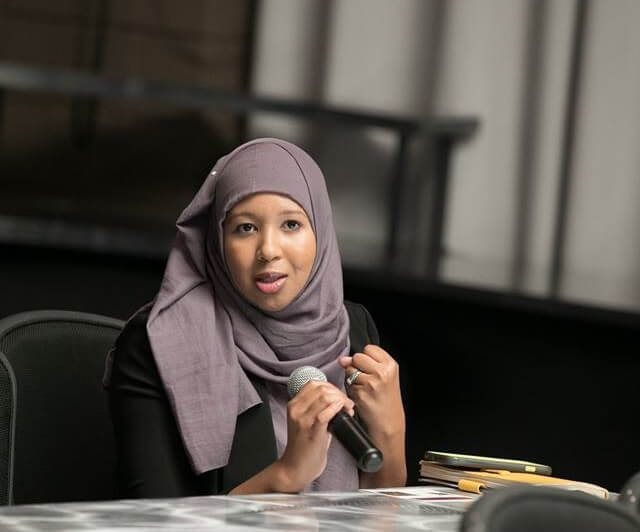 The Road Map Project recently announced its first-ever Community Leadership Team, a group that will provide visionary leadership and community accountability for improving education results and closing achievement and opportunity gaps. Over the next few months, you'll get to learn more about each of the 13 new members through this series.
Regina Elmi is a co-founder of the Somali Parents Education Board and believes the biggest role in this world is being a parent. She considers it a privilege to be working with parents like her every day and learning from them. Regina believes if we want to close the opportunity gap, parents and youth must be involved in conversations about systematic racism. She is a champion of community leadership and placing parents in leadership roles so they are the ones advocating for our children.
1. In one sentence, how would you sum up your day-to-day work?
Working alongside other parent leaders to interrupt systematic racism.
2. What do you want people to know about the community or communities you are a member of?
The Somali community is a very resilient, overcoming, and surviving every obstacle that comes our way. This is true from colonization to destruction and civil war to new foreign places in which they learned to strive and grow.
3. Tell us about a time when an educator or educational experience made a big impact on you.
When I was in eighth grade I finished my English as a second language classes, so going into freshman year I wanted to take honor classes. My guidance counselor informed me since I just left ESL, I would fail an honors class, saying, "You wouldn't even make it through the first week." My parents at the time couldn't advocate for me because of the language barrier and our cultural belief that teachers have your best interest in mind. I went to an African-American teacher whom I trusted and told him the story. The following week he went to the guidance counselor to advocate for me and got me into the class. This I believe is what lead me onto this path.
4. Who's your favorite social justice advocate, living, dead, or fictional?
Dr. Hawa Abdi, a Somali-born doctor who dedicated her life to serving the Somali people through building sustainable institutions in health care, education, agriculture, and social entrepreneurship.
5. If you can make one immediate change to the education system, what would it be?
Your ZIP code should not define your quality of education.
6. What are your hopes for the Community Leadership Team?
My hope is that we  make a positive impact in education so that our children thrive in their education.
7. Finish this sentence: Equity is …
…balancing the scale so we are all playing a fair game.
8. What was the last thing you read, watched or listened to? Would you recommend it?
The paper, "When Reality Crashes the Imagination: Experiences of Young Qurbojoog (foreign raised) Somalis in Somaliland."
9. Where is your favorite place to go in the Road Map Project region (South Seattle and South King County)?
Tukwila.
10. What is one of your most cherished family traditions?
Eid.
11. What inspires you?
My faith, my community, family, and those who have paved the way.
Posted in: Community Leadership Team