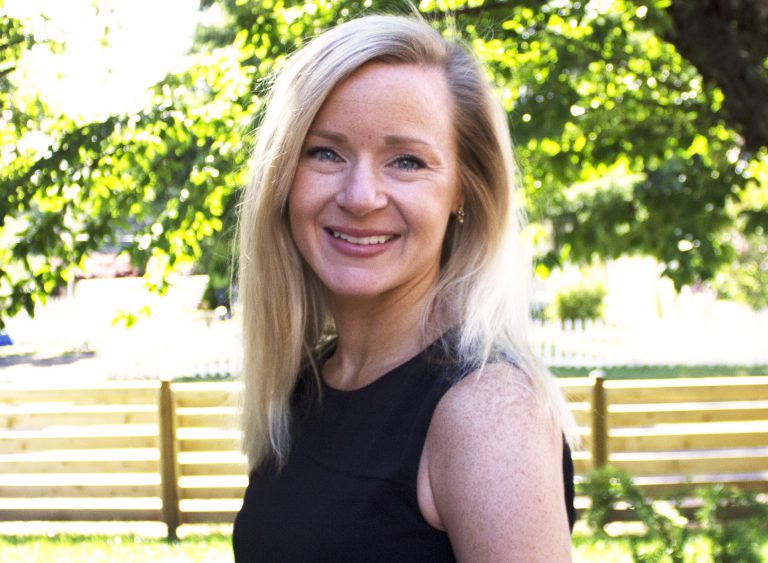 The Road Map Project recently announced its first-ever Community Leadership Team, a group that will provide visionary leadership and community accountability for improving education results and closing achievement and opportunity gaps. Over the next few months, you'll get to learn more about each of the 13 new members through this series.
Erin is a lifelong South King County resident with a strong track record of leadership and service in the Highline Public Schools district—especially in the city of SeaTac, where she served youth and families through Parks and Recreation for ten years. She currently serves as the program director for Graduate! Highline through the Highline Schools Foundation. She's also a mom, a runner, and a big NCAA basketball fan (Go Zags!).
1. In one sentence, how would you sum up your day-to-day work?  
Engaging the community and supporting the district in the shared goal of increasing graduation rates in Highline Public Schools.
2. What do you want people to know about the community or communities you are a member of? 
My community in South King County has a lot to be proud of. It's hard-working, family-oriented, and beautifully diverse. People here want the same things as people anywhere: healthy neighborhoods, safe places for children to learn and grow, access to high-quality education, and opportunities for economic advancement.
3. Tell us about a time when an educator or educational experience made a big impact on you. 
My K-6th grade teachers at Valley View Elementary in SeaTac are some of the biggest influences on my education to date. They provided me with a myriad of unconventional, experiential learning opportunities, especially around the arts. For example, through our art center, I learned to love visual art: Pointillism, Picasso, pottery — all of it. First we learned about the artist's life, their technique, their passion; and then we were given time and freedom to try our hand at their style. As an adult, seeing the real works of these artists in museums around the world has been all the more meaningful to me because I was given the chance to engage in art at an early age.
4. Who's your favorite social justice advocate, living, dead or fictional?
This is tough — I have many!  I think Jesus is my favorite. I also deeply admire Angela Davis.
5. If you can make one immediate change to the education system, what would it be?
Well — I don't know if this is "immediate," but one of the biggest observations I've made about our public education system is that it's not designed to recognize different types of learning talent. I think there are systematic obstacles that prevent diversity in "gifted" or "highly capable" programs, for example. Too many students are passed over because they don't meet the criteria set forth by a system that never favored them in the first place. We need to look beyond the typical "gifted" student model and consider how to best serve students with varying strengths and needs.
6. What are your hopes for the Community Leadership Team?
I hope we can truly engage our communities — unique and shared — in a collective effort to improve the region's public education system. I hope we have an influence on policy decision-making affecting education. Ultimately, I hope our work helps the Road Map Project to continue to dismantle racism in our education system, so that public school is an institution that serves all our region's children equitably.
7. Finish this sentence: Equity is…
…when everyone has what they need to succeed.
8. What was the last thing you read, watched or listened to? Would you recommend it?
I recently read Bryan Stevenson's book, "Just Mercy," about his journey to start the Equal Justice Institute to end mass incarceration, reduce death-penalty convictions, and fight racism in the United States prison system. I highly, highly recommend it. Hands down the best non-fiction book I've read in a long time.
9. Where is your favorite place to go in the Road Map Project region (South Seattle and South King County)?
There are so many great parks in South King County! Seahurst Beach Park in Burien is one of my favorites, especially with a toddler in tow. Also, DubSea Coffee in White Center. I love the coffee, the vibe, and how the customers are a true reflection of the community demographic.
10. What is one of your most cherished family traditions?
Every summer we go to my grandparents' property on Long Lake, right outside of Spokane. I have a huge extended family (my dad is one of eight kids!), and we all camp out for the weekend. We eat, play, and dance. I look forward to it every year.
11. What inspires you?
I'm inspired by the women who came before me. My maternal grandmother was strong. She was a single parent in the 1950s, passed the bar exam having never gone to law school, and went on to become a judge. I have this black and white picture that was taken at a conference she attended in California in the 1960's. It's three rows of men in suits — maybe 40 of them or so — and then my grandmother, standing front and center, the one fierce female. I'm inspired by her tenacity, and I like to believe I inherited some of it, too.
Posted in: Community Leadership Team