SOUTH SEATTLE/SOUTH KING COUNTY – As Seattle and South King County celebrate a million Race to the Top grant, a new regional report card reveals increasing need among students and shows data on 30 important indicators related to student success.
The 2012 Results Report was issued today by the Community Center for Education Results, the nonprofit organization supporting the Road Map Project, which is a region-wide effort to dramatically improve education results in South King County and South Seattle. The Road Map Project's goal is to double the number of students in South King County and South Seattle who are on track to graduate from college or earn a career credential by 2020, and to close opportunity gaps. Seven school districts – Auburn, Federal Way, Highline, Kent, Renton, Seattle and Tukwila – are among the many partners working on the Road Map Project.
The data shown in the Results Report are meant to motivate action and drive change. The report, which will be published annually, tracks the Road Map Project's Indicators of Student Success, which are important measures related to student achievement, such as the percent of students proficient in 3rd grade reading or the percent of students who enroll in postsecondary education. Thirty indicators are reported in the Results Report. The report also includes bright spots – examples of great success and opportunity gap closure – from around the region.
"We've known for years that education results in our region are not where they need to be. The Results Report clearly shows where we need to focus. These problems aren't new – what is new is the resolve and commitment in the region to improve education so all our students can be successful," said Mary Jean Ryan, executive director of the Community Center for Education Results.
The recently awarded $40 million Race to the Top grant will accelerate the work currently under way in the region to improve education. Over the past year, hundreds of people worked together as part of the Road Map Project to build plans that will tackle the opportunity gaps that exist across the education continuum. These efforts are beginning to take hold and future Results Reports will capture the outcome of this work.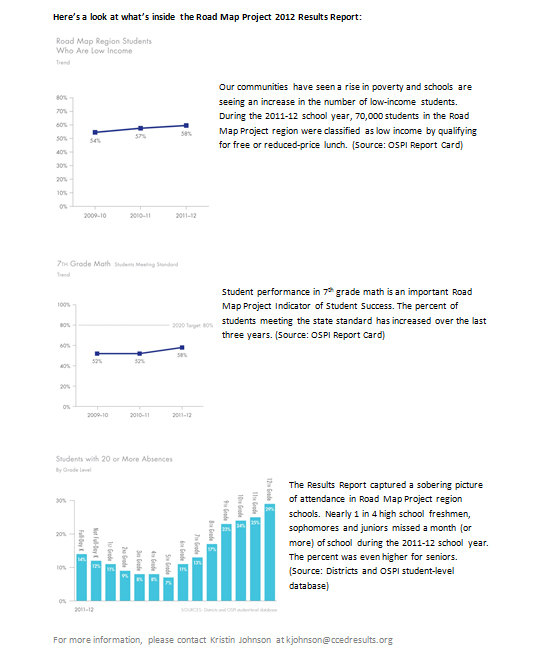 Please visit roadmapproject.org to read the report in its entirety.
Posted in: College and Career Readiness , College and Career Success , Data and Research , Early Learning & Elementary Success , English Language Learners , Opportunity Youth , Social Emotional Learning