Members of the Campbell Hill Elementary School team connect with partners from Centro Rendu.
Ebony Pattenaude of Renton School District welcomes school teams and community partners.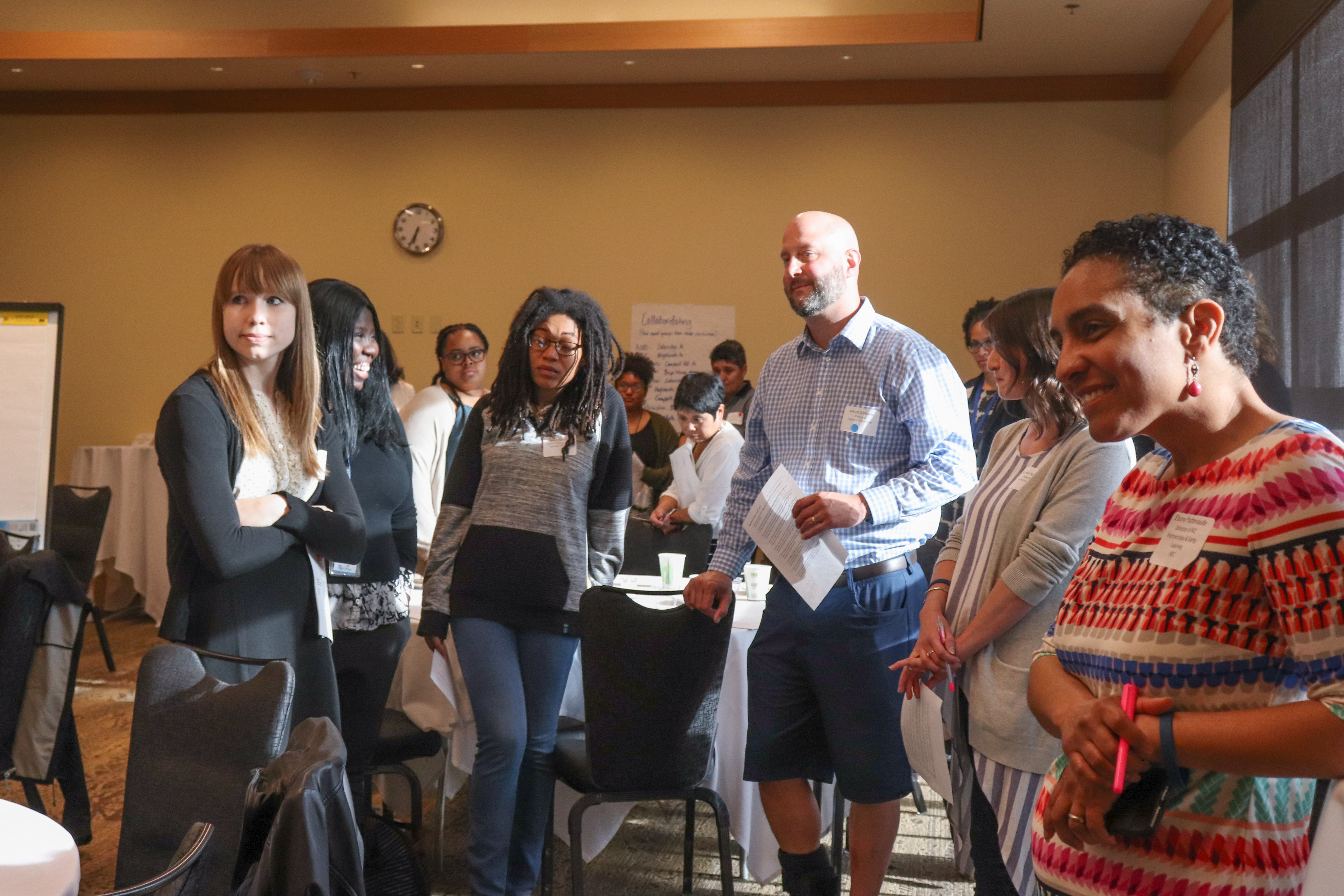 Partners listen to share-outs from conversations about strategy.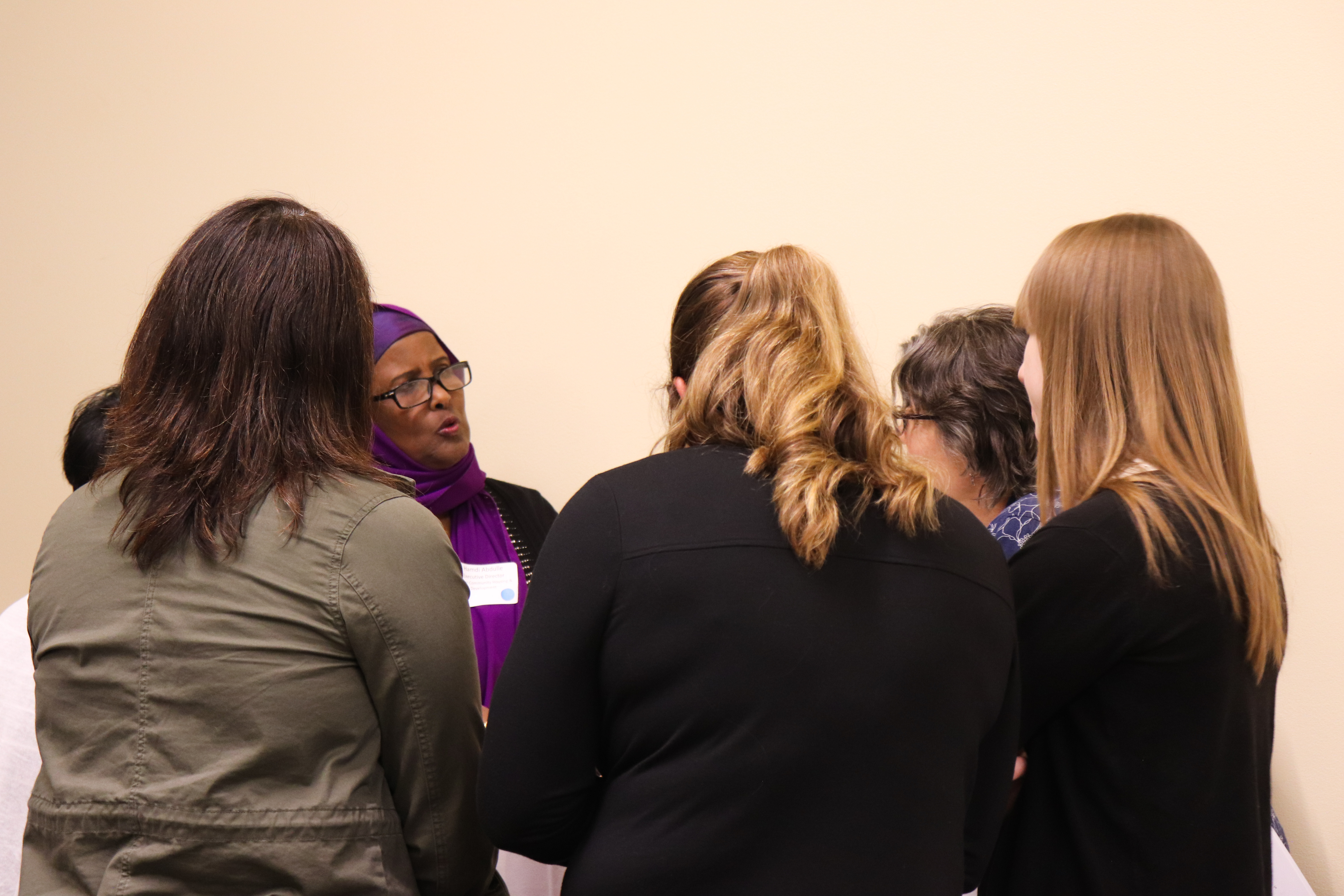 The African Community Housing and Development's Hamdi Abdulle speaks with a school team.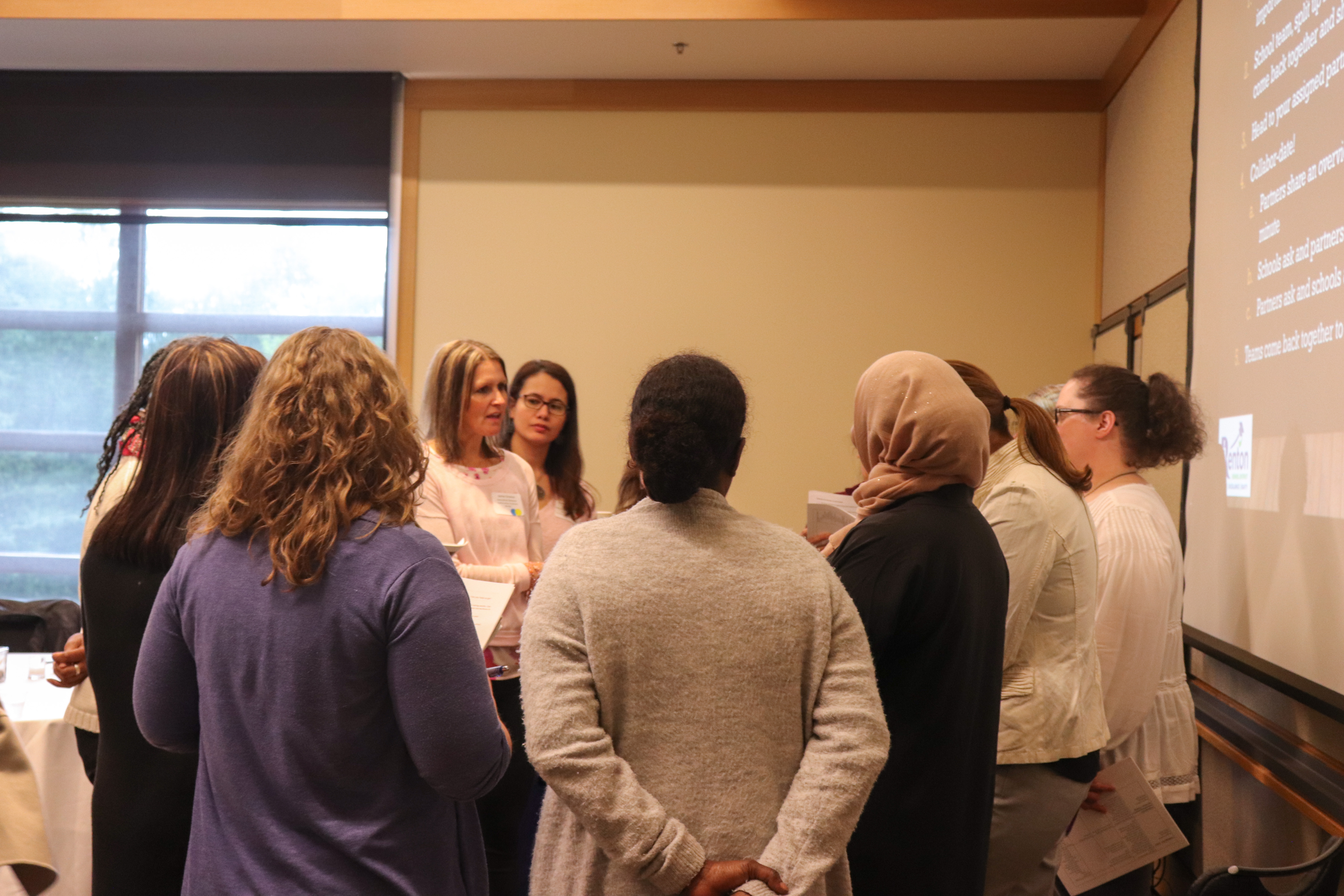 Community partners share stories and strategies.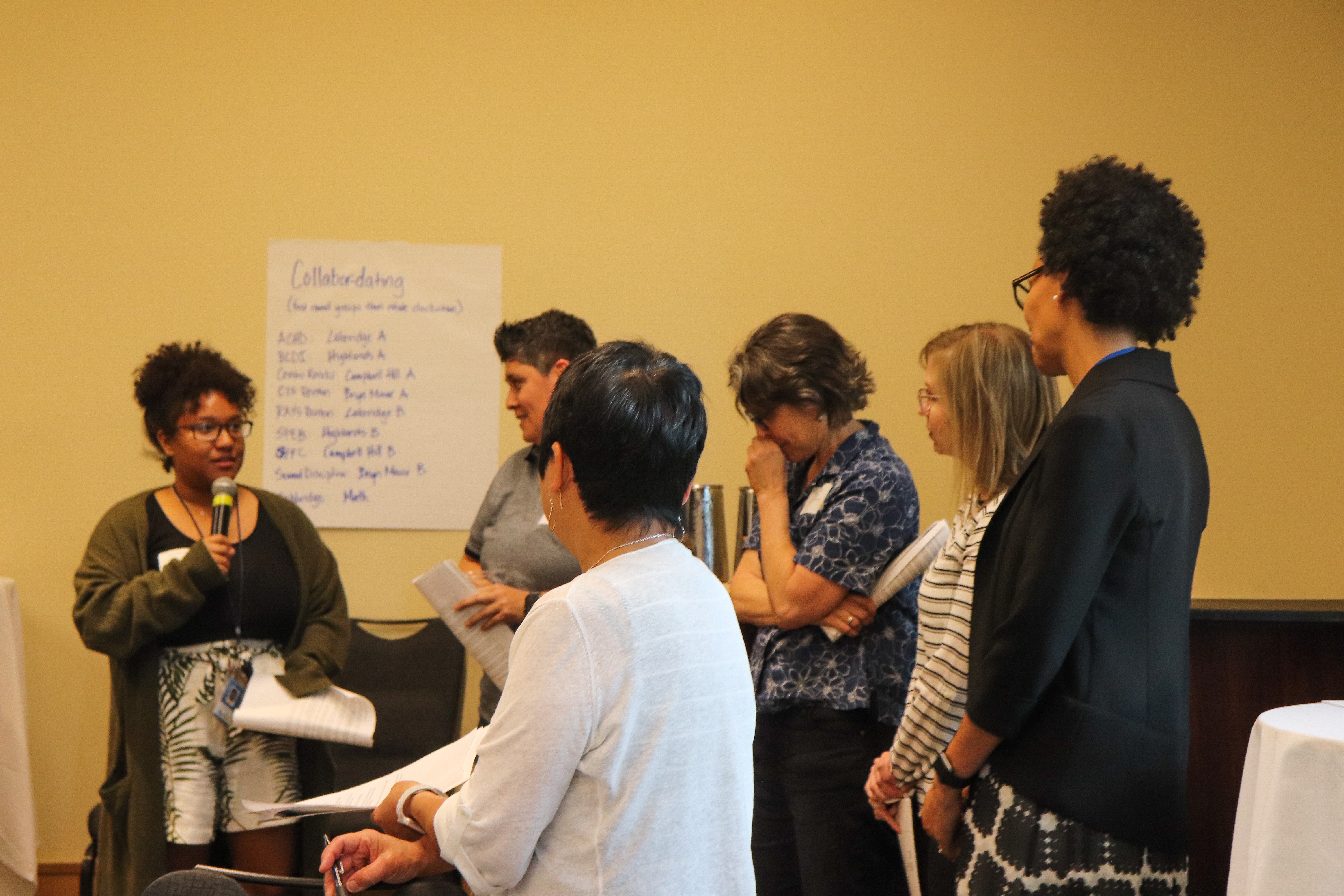 Attendees share out takeaways from their discussions.
The Renton Local Improvement Network hosted a meeting this month for their three networks—math, social and emotional learning, and community partners—to deepen collaboration. Although the three groups have been working throughout the 2018-2019 school year, this was the first time they were able to connect with each other to share strategies, outcomes, and learnings.
Renton School District is home to the Road Map Project region's first Local Improvement Network, bringing together district leaders, school teams, and community partners to improve early learning and elementary outcomes for students of color and low-income students. There are four elementary schools in the Renton Local Improvement Network: Bryn Mawr, Highlands, Campbell Hill, and Lakeridge. Local Improvement Networks focus on expanding district leadership, school staff, and youth service provider capacity for continuous improvement.
"If we are asking our kids to improve in school, we also have to work to improve schools," said Ebony Pattenaude, who directs partnerships and early learning for the Renton School District.
To frame their conversations, each of the three networks within the larger Local Improvement Network presented an overview of their work. The math network—composed of math coaches who work at the elementary schools to ensure effective instructional practices—kicked off the sharing with their 2018-2019 learnings and accomplishments.
The social and emotional learning network highlighted how they've been identifying patterns—such as building relationships across like roles, creating school cultures that see kids for who they are, supporting students' self-regulation, and engaging families as partners—that make systemic differences for young scholars. The network's four school teams each include a school leader, counselor, behavior interventionist, family liaison, partnership coordinator, and SEL coach.
The partner network, which helps address out of school time factors that affect academic performance, also recounted their progress throughout the year. The nine community organizations—African Community Housing and Development, Black Child Development Institute, Centro Rendu, Communities in Schools Renton, Renton Area Youth and Family Services, Somali Parents Education Board, Somali Youth and Family Club, Sound Discipline, and Techbridge Girls—coordinate with schools to break down silos of support systems and maximize existing resources.
The networks then split up for a few rounds of "speed collabor-dating," during which the nine community partners stationed themselves around the room while school teams moved from table to table to ask and answer questions. Energized by these deepening connections, the Renton Local Improvement Network ended the event by diving into conversations about key strategies that worked well this year, as well as how to sustain their focus on strengthening systems for early learning and elementary success next year.
Learn more about the Renton Local Improvement Network by watching this video, created by the Renton School District. A second Local Improvement Network pilot will launch late 2019 and more will come in 2020.
Posted in: Early Learning & Elementary Success , Social Emotional Learning