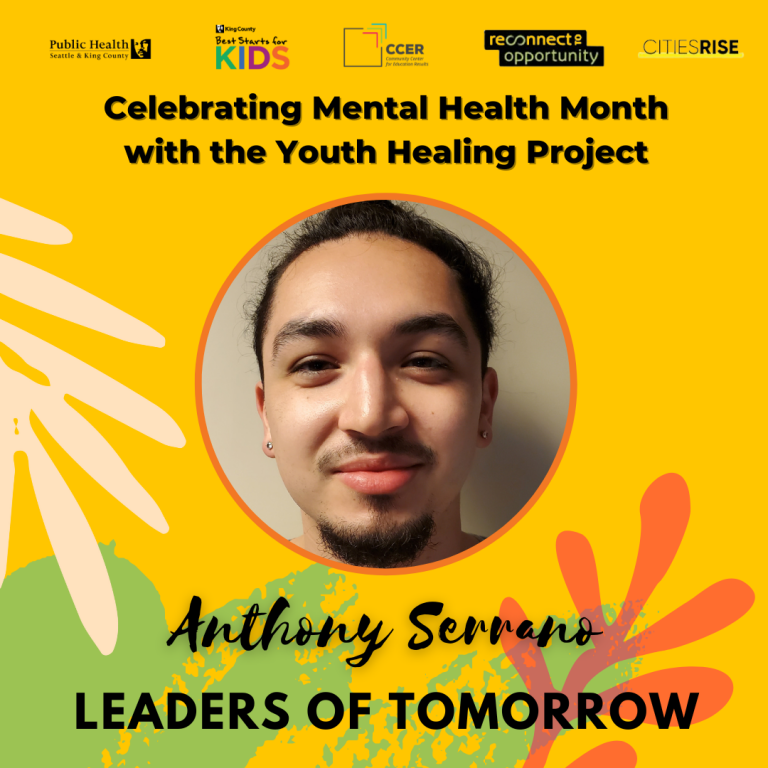 In honor of Mental Health Awareness Month, we're highlighting changemakers engaged in our Youth Healing Project, or YHP. The YHP was developed in direct response to the findings of a 2020 youth survey conducted as the impacts of the COVID-19 pandemic began to be felt. Community Center for Education Results (CCER), King County Reconnect to Opportunity (ReOpp), and citiesRISE worked together on a first round of funding in June 2021. A group of young people representing different communities in South King County served as the selection committee and chose youth awardees and community-based organizations to receive funding.
Anthony Serrano, who spearheads Leaders of Tomorrow, is a direct result of the impact of YHP. Anthony's program provides mentorship to the students of Concord International, an elementary school based in Seattle. "My program brings in culturally responsive mentoring—check-ins, one-on-ones, and preparing them with skills," Anthony notes in an interview with CCER. "We've been doing a lot of group conversations, asking them what they're feeling—a lot of them have expressed anxiety. It's a different world they're going into."
In addition to navigating life's transitions, students who have been attending school through the COVID-19 pandemic report higher rates of anxiety, depression, fatigue and distress compared to pre-pandemic times. Another side effect of COVID is the accelerated and pervasive use of technology—phones, computers and laptops have become a necessity for education as well as connection. Leaders of Tomorrow "gives [students] the skills that they need to be self-managers and to disconnect from technology that's been stunting them for so long," according to Anthony. "They're not even used to being kids anymore, to be quite frank."
When elaborating on how he ensures the program is culturally relevant and responsive, Anthony notes several key takeaways: guidance, agency, balance, and connection:
"First and foremost, not controlling [the youth], but guiding. Adults like to
be the authority figure, which is cool, but also understand that the youth have minds too. They have things that they want too, and [we're] molding them in a way to incorporated what they want to do into what we're already doing."
So what does the future hold for Leaders of Tomorrow?
Anthony is adamant about wanting to continue the program next year to see impact and growth in the students, and notes that funding is his major roadblock. Part of that looks like getting the local youth out of their neighborhoods for the first time and seeing other parts of the city, like the Space Needle. In the meantime, Leaders of Tomorrow is developing youth-led gatherings to celebrate all the joy that comes with the end of the school year—and every student's favorite time of year: summer.
To learn more about Anthony and Leaders of Tomorrow, you can reach out to him directly at hearthustleacademy@gmail.com. For more info on the Youth Healing Project, click here.
Posted in: Uncategorized