Now hiring: College and Career Readiness Coordinator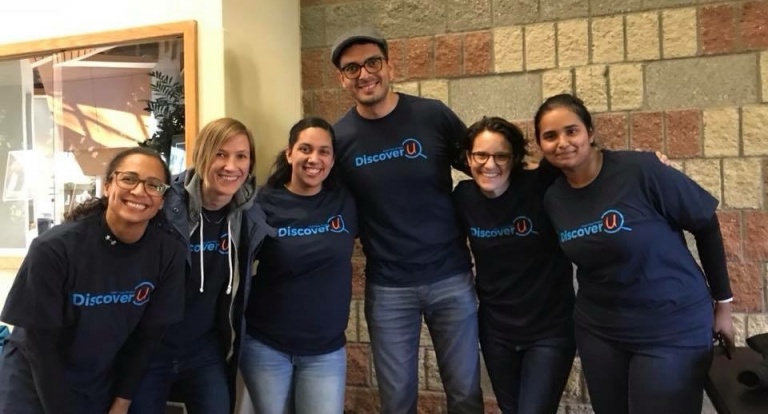 The Community Center for Education Results (CCER), which supports the Road Map Project initiative, is looking for a College and Career Readiness Coordinator. Primary responsibilities will be to successfully manage a series of regional worksite tours and support DiscoverU.
Worksite tours: These are field experiences in which high school students visit a local workplace to see what a company does, hear from employees about their educational and professional pathways, and participate in work-based activities.
DiscoverU: An exciting week every fall for our communities to come together and support students of all grades to explore college and career options, in school and the community.
This position is a great opportunity for someone who is detailed-oriented, excels at problem solving and executing a work plan in a fast-moving environment, and enjoys working alongside school staff, community partners, local employers, and youth. Candidates must be committed to building equitable school and community supports so that all students can achieve their college and career goals. The College and Career Readiness Coordinator will work closely with the currently two-person College and Career Readiness team, and may, on a more limited basis, support other Road Map Project college and career efforts.
Responsibilities
Road Map Project worksite tours
Coordinate with schools, in collaboration with district staff, to prepare for worksite tours, including, but not limited to, selecting participating schools, setting worksite tour dates, working with schools on permission forms for students, booking transportation, training chaperones, and evaluating tours.
Create and improve processes and resources to support high-quality worksite tours as these opportunities grow in the region. Resources include toolkits, videos, lessons, and more.
Provide follow-up reporting to funders, employers, and schools to continually improve worksite tours.
DiscoverU
Work alongside CCER's Communications team to develop outreach plan and resources for DiscoverU week, including school and community materials, activities, website and newsletter content, etc.
Communicate with districts, schools, and community partners about DiscoverU.
Convene stakeholders to gain input on DiscoverU outreach and resources. Past examples include Student, Community, and Teacher Design Teams.
Collaborate with school district college and career staff to evaluate engagement and impact of DiscoverU.
Qualifications and skills
Minimum two years of experience working in the areas of youth development and/or college and career readiness and access.
Demonstrated personal commitment to anti-racism work with an understanding of the challenges and barriers faced by communities concerning race, ethnicity, class, ability, immigration status, and gender—and their intersections.
Experience working in partnership with communities of color.
Excellent project management and event coordination skills, including the ability to thrive in a fast-paced, collaborative work environment, take initiative, respond to shifting priorities, multitask, and meet deadlines.
Ability to translate big ideas into a step-by-step work plan for implementation.
Experience developing resources or documenting projects.
Experience working with schools, colleges, and/or community-based organizations to accomplish collaborative work and meet common goals.
Ability to facilitate small and large meetings with stakeholders.
Excellent oral communication skills, including experience developing and delivering presentations.
High level of proficiency using Microsoft Office and Google Drive.
Preferred qualifications and skills
Fluency in Spanish, Vietnamese, Somali, or another language commonly spoken in the region.
Familiarity with schools, colleges, and community partners in the Road Map Project region.
Experience working with education leaders (e.g. district or college administrators, community leaders, funders, and policy makers).
Compensation
The salary range for this full-time position is $50,000 to $60,000 annually, depending on experience. Excellent benefits package, including health, vision, dental and life insurance as well as a 401k plan with employer match. CCER is an equal opportunity employer.
Close date
Preferred application deadline is 9:00 AM (Pacific Time) on Monday, November 19, 2018, but position will remain open until filled.
We will have flexibility in the hiring process, but our tentative hiring schedule is below:
Nov 30-Dec 7: Initial phone interviews.
Dec 10-19: In person interviews.
Desire for candidate to start by mid-January.
No phone calls, please.
To apply
Email: jobs@ccedresults.org
Subject Line: "College and Career Coordinator [Your Last Name]"
Body of email: Include where you saw the position posted
Attachments: Cover Letter and Resume